At 17, in the early 1980s, Kamala D. Harris made her first run for an elected office. Then, the woman who would become a U.S. senator seized the moment to lead, representing her freshman class on the Liberal Arts Student Council at Howard University in Washington, D.C. As soon as she got to campus, Harris, a political science and economics major, also became a social justice activist.
Nearly 40 years later, Harris returned to her alma mater in June 2019 to announce her bid to lead the nation as a presidential candidate.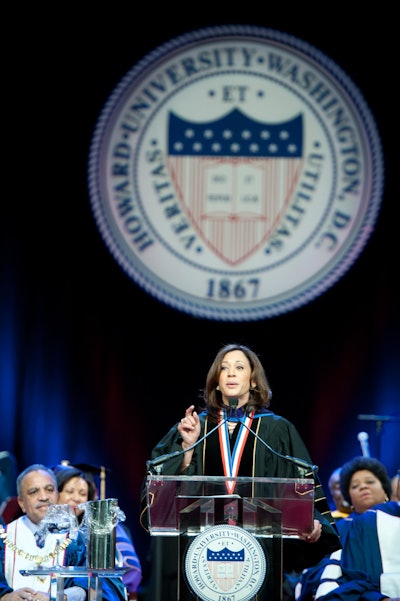 That day on the campus, as the nation watched and listened, she proclaimed Howard "one of the most important aspects of my life." Taking to Twitter, she did the same: "Being a graduate of @HowardU and a proud member of @AKASorority1908 changed my life."
But for Harris, this was more than a heartfelt social media moment. It was an acknowledgement of the institutions and organizations that first put her on a leadership path — and those she could count on to be in her political corner, including young HBCU voters and an international network made up of hundreds of thousands of her Alpha Kappa Alpha Sorority sisters.
In the year since her primary bid sputtered to a close, Democratic presidential candidate Joe Biden picked Harris to be his running mate. If their ticket wins the upcoming Nov. 3 election, the president–vice president pair would again disrupt the belief that it takes a candidate with an Ivy League degree to lead the nation. Nearly 40 years ago, Jimmy Carter and Walter Mondale ran and won without one.
Now, Harris, the first woman of color on a major party's national ticket, is also the first graduate from a Historically Black College or University (HBCU). It's a point of pride and possibility that has not only ignited excitement and mobilized fellow Howard alumni but has invigorated the throng of students and alumni who, like Harris, chose to attend one of the nation's more than 100 HBCUs.
Finding HBCU 'magic'
For Lorri Saddler, 30-year-old memories of her first walk on "The Yard" at Howard University flood back warm and fresh. On a college tour that day in 1983, "the sea of people" she saw reflected the African diaspora on the bustling campus. Being there, in that moment, "felt magical."
It's what helped seal the deal, recalls Saddler, the associate vice president and dean of undergraduate admissions at the historically Black Clark Atlanta University. Harris, Saddler's friend and fellow AKA line sister, also discovered the transformative magic that some call the HBCU experience.
"The Yard," Harris found, was not just a place but evidence "… that we could be anything — that we were young, gifted, and Black, and we shouldn't let anything get in the way of our success," she wrote in her recent memoir The Truths We Hold: An American Journey.
From that "grass-covered place, the size of a city block, right smack in the heart of campus," Harris saw scenes that are familiar across
many HBCU campuses. There were "… young dancers practicing their steps or musicians playing instruments.… Look to your left and there were brief-case toting students strolling out of the business school, and medical students in their white coats, heading back to the lab," she also recounts in The Truths We Hold.
Like them, Harris was empowered to become what she saw. The daughter of immigrants — her father is from Jamaica and her mother is from India — and educators, Harris says those early roots also readied her to do what's never been done before.
Dr. Wayne A. I. Frederick, Howard University's president, called Harris' selection as the Democratic vice-presidential nominee "an extraordinary moment in the history of America and of Howard University." It was also a "milestone opportunity for our democracy to acknowledge the leadership Black women have always exhibited but has too often been ignored. Let's pause and take a collective breath that has been denied to so many," Frederick said in a statement.
Tiara Thomas, a junior at Tennessee State University (TSU) and a campus organizer, has been watching Harris' ascent, and is hopeful that other HBCU alumni will follow.
"I think what Kamala Harris is doing for Black women is what (former President) Barack Obama did for Black men in America," says Thomas, a political science major from Olive Branch, Mississippi, and the creator of TSU Votes, a social media platform. "It gives us another crack in the glass ceiling."
A sea of sisters in her corner
In 2020, "the time was ripe for this [Kamala Harris'] selection" and the political force it represents, says Dr. Wendy Smooth, a professor of political science and women's studies at The Ohio State University.
Although touted as a voting bloc with clout, "it's not happenstance that all of a sudden we're talking about Black women in 2020. And it wasn't that we started talking about Black women just in 2008, which is another narrative that I find extraordinarily frustrating,"
said Smooth, who is working on a book titled Perceptions of Power and Influence: The Impact of Race and Gender in American State Legislatures. The book will examine the impact of race and gender on the distribution of power and influence in U.S. state legislatures.
Based on the data, Smooth and other scholars say the engagement of Black women voters has also created a "Black gender gap." Since about 1984, it's landed Black women, not Black men, "at the center."
When Harris set her sights on the White House, she turned early to her sorority, what some have called her "secret weapon."
According to Smooth, the collective strength, activism and organizing that's now helping to fuel Harris' historic candidacy can be traced to Black women's clubs and benevolent organizations that, for centuries, stood in the gap and helped leverage needed support for those in the Black community. Those organizations included Black sororities and fraternities. In 1986, in her senior year at Howard, Harris was initiated into one — Alpha Kappa Alpha (AKA). Founded in 1908, AKA is the oldest Black sorority in the United States.
More than a century ago, nine young female students founded AKA at Howard, and Lucy Diggs Slowe was among them. Later, when Diggs became Howard's first dean of women, she faced stunning sexism, and in her day, the sting of racism. Still, she was unyielding, championing and propelling generations of her students to be modern Black women who lived "not in the shadows of white people or Black men, but in the light of their own selves and possibilities," Slowe wrote.
"Those were women — and the other Divine Nine organizations — who have always been moved and convicted around community care," says Smooth, who is also a member of AKA. The "Divine Nine" refers to the nine organizations that make up the National Pan-Hellenic Council of historically Black sororities and fraternities.
'We have her back'
As nonprofits, these Black Greek-letter organizations cannot formally endorse political candidates, but with Harris, the AKA on the 2020 political ticket, they've shown "we have her back," says Dr. Everett B. Ward, general president of Alpha Phi Alpha Fraternity, Inc. and the former president of Saint Augustine's University, an HBCU in Raleigh, North Carolina.
Dr. Glenda Glover, the president of Tennessee State University (TSU) in Nashville, agrees: "Senator Harris' selection is a full-circle moment for HBCUs and African American Greek organizations that worked tirelessly to give the Black community a voice from the turn of the century, through Jim Crow and the Civil Rights Movement, to present day."
Today, with 1,026 chapters and nearly 300,000 members, AKA is a stalwart for Harris, one of their own, adds Glover, who is also the international president of AKA. But Glover argues that "the growing, national coalition rallying behind Harris is bigger than AKA."
The Divine Nine, with a total membership of about "2.5 million," says Ward, "multiplies when you talk about chapters and their individual members." They've harnessed their members to reach HBCU students, on and off campuses, and those in communities across the country. They've focused on everything from voter registration and education, to getting people to the polls, to working to thwart voter suppression, says Rasheeda S. Liberty, the international president of Sigma Gamma Rho Sorority, Inc., founded in 1922 at Butler University in Indianapolis, Indiana.
"Family is my beloved Alpha Kappa Alpha, our Divine 9 and my HBCU brothers and sisters," Harris said when she accepted the vice-presidential nomination at this year's Democratic convention. The national shoutout to her sisters stoked a successful Biden-Harris fundraising campaign. It called for individual donations of $19.08, in recognition of the year AKA was founded.
But Glover says that as a part of its election season strategy, AKA created a 100-day plan directing every undergraduate chapter to ensure that its members cast a ballot.
Phi Beta Sigma Fraternity, Inc. was also founded at Howard University. In September, members used National Black Voter Day to reach unregistered Black men, part of an overall campaign, says Michael E. Cristal, the fraternity's international president.
And, in August, as the nation marked the 100th anniversary of the passage of the 19th Amendment, Delta Sigma Theta (DST) Sorority, Inc, launched D4Women in Action: DST for African American Women for Political Power, making it the first Black Greek-letter
organization to establish a 501(c)(4) nonprofit.
While not a PAC and unable to directly fund political candidates, the sorority's leaders said in a statement, "The new entity will be used to enhance Delta's political presence and build a pipeline to advance the status of Black women in politics." DST was also founded on the Howard campus in 1913.
On election day, more than 1,000 AKA members who are attorneys will be on call if a voter's ballot is ruled invalid, a registration is challenged or a poll closes before someone can vote, said Glover, who also earned a law degree. The sorority is partnering with the National Bar Association's election protection initiative.
Fueling HBCUs into the future
Members of the Divine 9 are also demonstrating that they are capable of formidable fundraising on behalf of HBCUs, especially those that have been left more financially fragile since the pandemic. On Sept. 24, during its annual HBCU Impact Day, AKA raised more than $1 million in 24 hours for HBCUs.
Looking forward, Glover says she has a pretty clear picture in mind of the kind of impact that a Biden-Harris administration could have on HBCUs, institutions that remain woefully underfunded. She stopped short, though, of saying what she would like to see, at least until after election day.
Although HBCUs make up only 3% of four-year colleges in the U.S., they have produced 80% of the country's African American judges and 50% of its Black physicians. Among Black college graduates with a degree in STEM, 27% are from HBCUs. And, despite doing more with less, HBCUs have trained nearly 50% of the country's Black teachers.
Since the summer, Glover says Biden and Harris have met with HBCU presidents and leaders of Black Greek-letter organizations to talk about the strengths and capabilities of HBCUs — and what it will take for HBCUs to not only survive, but thrive.
This article originally appeared in the October 29, 2020 edition of Diverse. You can find it here.