This fall, Temple University pledged to put a million dollars toward antiracist education and programming in the wake of this summer's Black Lives Matter protests.
"Racism continues to operate in every facet of the lives of Black people today – in education, employment, healthcare, policing … ," said Dr. Valerie Harrison, senior advisor for equity, diversity and inclusion at Temple. "There are countless opportunities to really effect change. So, what we did is we asked ourselves, how will we allocate our resources and focus? How do we leverage our strengths? What areas are we really best equipped to impact?"
The funds will also partly go toward a new center for antiracism research and an expansion of the Africology and African American studies department, hiring four new faculty.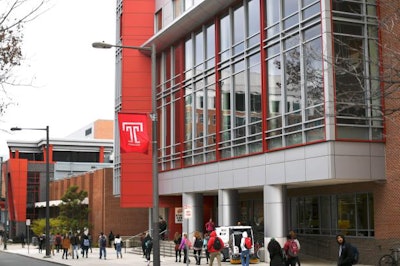 Africology and African American studies department chair, Dr. Molefi Kete Asante, sees the university's investment as a "down payment on a long-term commitment to the idea that African American studies [program] is not only a legitimate field of research and teaching but a necessary one for a society such as ours."
His department was the first to grant doctoral degrees in its field, with famous graduates like Dr. Ibram X. Kendi, the author of How to Be an Antiracist. But since the 1990s, the department shrunk from 14 to eight faculty members. As a result, it hasn't been able to offer students majoring in Africology and African American studies a full curriculum.
For years, Asante has been waiting to rebuild – and a million dollars won't do it, he said – but it's a positive step. By next fall, the department hopes to hire scholars focused on Afrofuturism and post-coloniality, African civilizations, African womanism as well as African American social and historical experiences.
The department will also be in charge of creating the new antiracism research center, though Asante wants to involve faculty from across disciplines, who are already expressing interest. The center's research has the potential to cover a vast range of topics including race and immigration, police violence, economic discrimination and White supremacist attitudes, among others.
Through this initiative, Asante hopes other disciplines will embrace an African American studies lens in their work. Together, Temple University scholars can "raise the questions that other people have basically tiptoed around regarding how is it that you can go to school from kindergarten and finish college and still come out a racist?" he said. "Somehow we've missed something that we don't understand."
Temple will also build on some of its existing resources, like its summer bridge program for North Philadelphia public school students. It will include free courses at Temple, scholarships and continued mentorship to ease the transition to college.
For Harrison, who grew up in the Philadelphia public school system, high school students in the university's surrounding neighborhoods seemed like a natural priority.
"Systemic racism has led to educational disparities and inferior educational opportunities for many Black children, and for decades, Temple has been standing in the gap for children who have been relegated to under-resourced public schools," she said. While the bridge program isn't new, now "we're being much more intentional about creating a pipeline to college. "
The university will also implement campuswide, mandatory diversity training for all faculty search committees to diversify its applicant pool and ultimately recruit more faculty of color. As for retention, it plans to develop targeted minority faculty mentorship programs.
Through these initiatives, focused primarily on anti-Black racism, the university is responding to a "tremendous desire" from students and staff to understand and combat racism after the killing of George Floyd by police this summer, Harrison said. Students have expressed "we want to learn more, we want to know more. We want to move from a general awareness of racism. We want to understand how it operates because we want to be on the front of effective and meaningful solutions."
Harrison hopes Temple's campus community can take pride in its antiracism work and its response to the national conversation.
"When history is interpreted and written from the perspective of those with advantage and privilege, there is never a need for change," Harrison said. "However, when the perspective of the oppressed and the vulnerable is front and center, the story is much different. We have a platform in this moment … Ten years from now, two years from now, it's my hope that we can say that we responded to this moment and we responded to this opportunity in a way that closed the opportunity gap and moved us closer to racial equity."
Sara Weissman can be reached at sweissman@diverseeducation.com.