The University of Michigan (UM) will hire at least 20 tenure-track faculty – versed in academic work on structural racism and racial inequality – over the next three years as part of its new anti-racism initiative.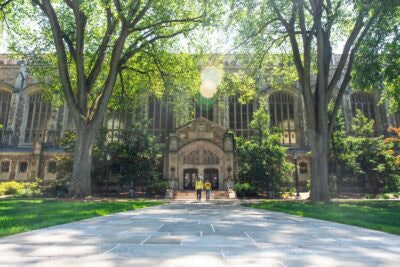 "We're building on all of the existing focus, attention, expertise, commitment with the specifics in terms of focus on work around anti-racism," said Dr. Susan M. Collins, UM provost and executive vice president for academic affairs. "And so, the faculty hiring cluster is intended to really work on scholarship, building up and enhancing the many existing faculty we already have on campus by bringing some additional faculty to campus in coordinated ways."
For this anti-racism initiative, the Provost's Office will be partnering with the school's National Center for Institutional Diversity (NCID) and the Office of Research.
"Recent events in our nation highlight the need for all, including the University of Michigan, to do more to dismantle institutionalized racism and racial injustice in our society," Dr. Tabbye Chavous, UM director of the National Center for Institutional Diversity, associate vice president for research and professor of education and psychology, wrote in an email.
"The initiative is also responsive to prior commitments from our university leadership, including Provost Collins and President Schlissel, and input from faculty, students, and staff who have called for concrete actions to address racism, including hiring more faculty pursuing scholarship and social action focused on fighting systemic racism and injustice, and increasing cross-campus expertise and capacity in diversity, equity, and inclusion."
Funding responsibilities for the hiring initiative will be shared between the Provost's Office and the hiring departments.
Collins said the decision to hire 20 new faculty shows that anti-racism is a priority UM is dedicating resources to. And, depending on other initiatives in the works, the number of total hires may actually rise.
"There are some parallel initiatives that are still being finalized, with the details being worked out, one that will bring some additional faculty in this space and the biosciences and perhaps some other initiatives as well," Collins said. "So the idea of catalyzing groups on campus to partner with us will then potentially expand the number of hires that we're ultimately able to do."
Given current restrictions on UM's tenure-track hiring due to the financial effects of COVID-19, up to eight faculty members will be hired in the first year, Collins said.
These faculty will begin in early January 2021.
The hires can be from any demographic and can work for any UM school or discipline, Chavous wrote.
"The selection committee has a majority of faculty experts. And those experts are across the disciplines, by design," Collins said. "It's intended to signal the breadth of interest in this initiative. And it's a way also to bring our campus together.
"I hope that we have creative synergies in these proposals that bring our schools and colleges and departments creatively together to find ways to really address anti-racism in new and creative ways and will have an impact. There's no presumption about which areas the hires will end up being in."
The faculty cluster hiring is but one half of the anti-racism initiative, Chavous wrote. The other is a racial equity and justice research collaborative.
"This research collaborative will serve as an intellectual hub and social reference group that will strengthen the collective work of new and existing faculty who are dedicated to anti-racism," Chavous wrote. "The collaborative is also a new proactive strategy designed to retain faculty with anti-racist commitments through building a scholarly and action[-oriented] community.
"The collaborative will provide resources such as short-term and long-term grants of various sizes to interdisciplinary research teams, postdoctoral positions, as well as opportunities for students (undergraduate and graduate) to work with faculty on projects and be exposed to multi- and interdisciplinary research/scholarship and social action approaches focused on anti-racism. There will also be small planning/seed grants available to encourage scholars to come together and seek synergies for future projects."