Kristen Clarke has been confirmed as the first Black woman to lead the Justice Department's Civil Rights division, a confirmation that came on the anniversary of George Floyd's killing, CNN reported.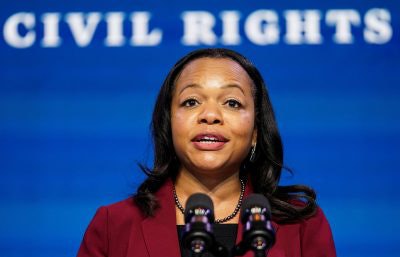 Clarke was confirmed with a 51-48 vote, with Sen. Susan Collins as the only Republican voting in favor. She was sworn in by Vice President Kamala Harris on Tuesday evening.
"This is a historic moment because for the first time since its creation, following the enactment of the Civil Rights Act of 1957, the confirmed Assistant Attorney General for Civil Rights will be a woman, and will be a Black woman, and that is Kristen Clarke," Harris spokesperson Symone Sanders said.
Clarke's legal career began at the Justice Department. For the past five years, she has served as president of social justice nonprofit Lawyers' Committee for Civil Rights Under Law. In the past, she has worked as an assistant counsel for the NAACP Legal Defense and Educational Fund.
She holds degrees from Harvard University and Columbia University School of Law.
Clarke has been criticized by Republicans for her views on police reform.
"I do not support defunding the police," she said at her Senate confirmation hearing, in response to a question from Illinois Democratic Sen. Dick Durbin. "I do support finding strategies to ensure that law enforcement can carry out their jobs more safely and effectively and channeling resources to emotional health treatment and other severely under-resourced areas."