Casey Warner put his classroom studies to use when he was tapped to spearhead an ambitious branding campaign for a new craft beer inspired by his beloved university: Alabama A&M University.
On Thursday, "Alma Mater" made its official debut at a local brewery in Huntsville, thanks to Warner and two of his classmates who named the beer and launched an impressive rollout of the marketing strategy to get the beverage in the hands of beer lovers.
"I am not a heavy beer drinker, but I do like to socialize and drink a beer every once and awhile," said Warner, who graduated from Alabama A&M University earlier this month with his MBA, after spending the past eight years at the school as an undergraduate and graduate student.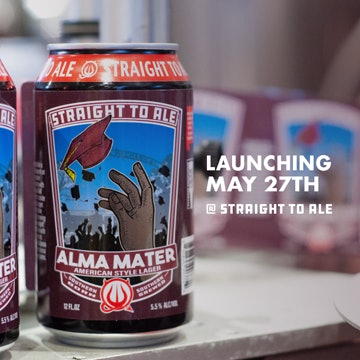 The Indianapolis native said that he and his classmates were invited by the dean of the business school to help name and promote the beer after the university struck up a deal with the Huntsville-based brewery called Straight to Ale to create a new American Lager. The collaboration means that Alabama A&M is the first and only historically Black college and university (HBCU) to have its own beer.
"I was excited and thrilled," said Warner, who worked on the project for several months. This business venture will yield profits to the university for each beverage or six-pack that is sold during the life of the product.
"We wanted to target people who went to the school, beer drinkers and of course, our alumni," said Warner. "If there's a great taste in beer, people are going to try it out."
Dr. Archie Tucker, II vice president for marketing, communication, and advancement at AAMU said that the beer was named "alma mater" as a representation of the pride one feels about the school, college, or university that they attended.
"We wanted a name that connected with Alabama A&M without it being exclusive to our University, but also one that appealed to most adults," he said.
On Thursday evening, the university and the brewery hosted a release party officially celebrating the beer release. The event featured remarks from Alabama A&M president Dr. Andrew Hugine, Jr. and Rep. Anthony Daniels. Daniels, who holds both a bachelor's and master's degree from Alabama A&M, is one of the state's key advocates for legislation to ease restrictions on the state's craft beer breweries.
"Straight To Ale is very excited to be working with Alabama A&M on this special brewing project. The process of working hand in hand while crafting the recipe, marketing strategy, etc., has been very rewarding for our staff and a source of pride for the entire STA family," said Straight to Ale Brands owner Dan Perry.
University officials said that a documentary chronicling the creation of the project, is slated to be released in the near future.
For Warner, the process of working on the project was a dream come true, particularly as he readies himself to join the job market with his recently earned MBA degree in hand.
"This has been an amazing experience," said Warner, who added that only at an HBCU would he have had the opportunity to combine the theoretical coursework with practical application. Until he finds a full-time job, he said that he is planning to do freelance work.
"I had a wonderful experience here," he says of his alma mater. "As a Midwesterner, I came here, and I honestly fell in love with the South and the school."
Walter Hudson can be reached at [email protected]