While conducting research, Dr. Erica Armstrong Dunbar came across an advertisement for a runaway enslaved person.
President George Washington was in search of his wife's enslaved housemaid, Ona "Oney" Judge—who escaped from the President's House in Philadelphia in 1796 at the age of 22.
As George and Martha Washington prepared to return to Mount Vernon, Virginia, Judge fled the household and boarded a boat headed to Portsmouth, New Hampshire.
"I was immediately taken with this story," said Dunbar, who holds the Charles and Mary Beard Distinguished Professorship of History at Rutgers University and is one of the nation's most prominent historians. "Who was this young 20-something year old woman who found the courage to defy the most powerful family in the nation? I was struck by the fact that I didn't know her story and I was someone who is supposedly an expert in early African American women's history."
Inspired by her courage, Dunbar spent 10 years researching and writing the book Never Caught: The Washingtons' Relentless Pursuit of Their Runaway Slave, Ona Judge, which was published in 2017 to positive reviews.
"[Her story] resonates in this moment," Dunbar said in an interview with Diverse. "It resonates today as we hear this sentencing for Derek Chauvin and this larger continued struggle for Black freedom. We can look backwards. We can look at Ona's story and contextualize the struggle for Black freedom beginning before the nation was founded."
Unknown to Dunbar, a fourth-grade class in Fairfax County, Virginia had also taken a keen interest in Judge's story.
For years, Maura Keaney, a former technology specialist at Laurel Ridge Elementary School located about 18-miles south of the nation's capital, created blended learning scavenger hunts to teach her fourth-grade students about Virginia's complicated history. Points are earned by visiting historical markers across the state and writing an accompanied informational summary.
Eventually the "History Hunters" assignment expanded to also include historical sites and state parks.
"It is just a way for them to truly notice the rich Virginia history all around them as they drive around with their parents or do other things," said Keaney, who now works at Kings Glen Elementary School in nearby Springfield, Virginia. "They will take notice of the historical markers and try to actually read them and learn those stories."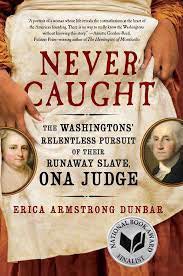 Noticing a pattern among those represented by historical markers—such as Confederate General Robert E. Lee—her students sought to uncover the untold Virginia narratives.
One story, for example, focused on Barbara Rose Johns, who led a student walkout to protest the conditions at Robert Russa Moton High School in Farmville, Virginia. Johns' efforts initiated the Davis v. Prince Edward lawsuit, which was included as part of the historic Brown v. the Board of Education case that desegregated schools.
In addition to teaching Johns' story, Keaney read picture books about events related to Virginia history. One featured Judge.
With many of her students—specifically the young girls—becoming more fascinated with Judge, Keaney encouraged them to read Dunbar's newly released young readers edition of her book, Never Caught, the Story of Ona Judge: George and Martha Washington's Courageous Slave Who Dared to Run Away.
"I hope it was significant for Professor Dunbar to know that it really made a difference in the lives of these girls that she told the story for them, of a local hero," she said.
With both Judge and Johns lacking a historical marker, research was conducted around the process of obtaining one. To do so, individuals are required to receive approval from local legislators and raise about $1,800.
As Keaney's students were readying themselves to take on the challenge, Virginia Governor Ralph Northam announced plans for the Black History Month Historical Marker Contest. Students submitted their nominations in March 2020.
"The Black History Month Historical Marker Contest gave students and educators alike an opportunity to research local heroes, and celebrate the incredible contributions Black and brown individuals have made to Virginia history," said Atif Qarni, Secretary of Education for the state of Virginia. "I am so proud of the educators and students who are helping us tell a more complete Virginia story through their participation in this contest."
Judge alongside the students' other nominees —Johns and Sergeant William H. Carney— were awarded historical markers.
"I think it was really significant for the girls to be able to notice an injustice themselves and then have a way that they could do something to correct the injustice, or at least moving towards something closer to justice by making sure that Ona Judge is remembered and that her story is known by more people," said Keaney.
Due to COVID-19, the ceremony was delayed until June 19, 2021. Without speakers lined up, Keaney suggested reaching out to Dunbar. Moved by the initiative, Dunbar agreed to attend and speak at the unveiling ceremony.
"Her name in this marker cement her story into the American narrative and that to me was worth years of research and writing," she said. "I think it is the beginning of a moment where we begin to rethink how we mark this nation. Whose names are known, whose names are commemorated and whose lives are commemorated. I'd like to think that this moment with Ona is a part of a continuum, something that will continue to happen for years to come."
Dunbar noted the marker is the work of Kealey and the students, not Mount Vernon, the historic home of George and Martha Washington, a popular tourist destination spot. Given that the ceremony took place on the first federally recognized Juneteenth, Dunbar was also "disappointed" in how Mount Vernon acknowledged the day's history, including the use of interpreters, dressed as enslaved individuals to tell their stories.
"Why do we have people dressed as enslaved men and women?" asked Dunbar. "You would never see someone dressed in a jumpsuit with a Star of David and numbers tattooed across their arm leading schoolchildren through a Holocaust Museum."
"But for some reason," she added, "we still feel in this nation that it is okay to do that. I would hope that Juneteenth would prompt institutions like Mount Vernon and other places to rethink the way they deliver their educational programs to the larger public, but more specifically to children."
Sarah Wood can be reached at [email protected].