Howard University is in the midst of "an emerging, heated, family squabble."
That's according to former alumni trustee Rock Newman, who, in an open letter to Howard on Facebook, asked that the Board of Trustees reverse its unanimous decision made in mid-June to remove all affiliate trustee roles for faculty, students and alumni.
The decision was the result of an "extensive review" of the Board's governance last year, explained Dr. Laurence C. Morse, chairman of the HU Board of Trustees, in an announcement. Working with an external firm that specializes in higher education governance, he said the review team interviewed more than 40 university stakeholders, such as students, alumni, faculty and former trustees.
"There was overwhelming consensus that our current process of governance and engagement across the university, from the Board through various stakeholder groups, is not working," wrote Morse, who didn't elaborate on what "is not working" but ensured that "stakeholder engagement" would remain a priority, beginning with a virtual town hall that was held on June 21.
Still, alumni and students were not pleased.
"The most inexplicable part of shutting student, faculty, & alumni voices out of Howard's Board of Trustees – is that the choice replicates the elitism & supremacy of the structures that necessitated Howard's creation," wrote Paul Lisbon, a student at Howard Law School.
"Faculty, alumni, and again, especially students, deserve to be able to chart the future of our institution in a manner that is collaborative and that centers us all, not just a handful of board members," wrote HU's Young Democratic Socialists of America Afro-Socialists in a petition that has received 350 signatures asking the Board to reverse its decision.
Howard University officials declined to comment for this story.
For Imani Bryant, a 2021 Howard graduate who is currently enrolled at the university as a graduate student, the decision went against the wishes of the student body. As an example, they pointed to student protests in 2018. At the time, students occupied the main administration building with a list of nine demands, one of which called for more influence in the Board of Trustees.
Bryant also pointed to a 2020 student survey that they helped conduct during their time as director of student advocacy for the Howard University Student Association (HUSA). Out of 2,600 respondents, Bryant said 97% answered either "definitely yes" or "probably yes" when asked if the Board of Trustees should have student and faculty representation.
"Everyone I've seen has really been disappointed and upset over this," said Bryant. "There's been a really big outcry of students, basically saying that they don't feel represented at the highest levels of university."
Specifically, they said the university's explanations that it would like its Board members to take on a more "traditional, fiduciary focus" made many students upset.
"We pay tuition," said Bryant. "So it didn't make sense to us that students, faculty and staff would not be interested in the fiduciary interests of the university."
Yet, the fact that students pay tuition is precisely the reason the majority of private universities — 80% — opt to not have student trustees. There is a worry that, especially when it comes to a university's financial decisions, students will vote in the best interest of themselves and not of the university, explained Dr. Merrill Schwartz, senior vice president for content strategy and development at the Association of Governing Boards of Universities and Colleges (AGB), an organization that focuses on strengthening higher education governance.
With conflict of interest in mind, Schwartz said AGB typically recommends that universities don't have student or faculty trustees on their boards.
"Every member of the board needs to serve the whole institution, and to be a fiduciary and the whole idea of being a representative doesn't mesh well with holding the institution in trust and being a fiduciary for the whole institution," said Schwartz, echoing Morse when he explained that Howard's decision now "means that all trustees will now have the responsibility to act in the best, long-term interest of Howard University."
Schwartz described boards of trustees as "corporate bodies" that are often considered guardians for the future of an institution. Among a board's responsibilities include hiring and evaluating an institution's leaders; safeguarding an institution's financial health; interacting with outside stakeholders; maintaining an institution's mission statement; and assessing its own performance.
It wasn't until after students leveraged protests in the 1960s and '70s, calling for greater representation, that they were added to university governing boards in the U.S., with some states even passing laws requiring there be a student trustee at public institutions.
As a result, today, approximately 44.9% of public institutions have voting student trustees and 25.8% have non-voting student trustees. Among private institutions, 9.7% have voting student trustees and 12.7% have non-voting student trustees, according to a 2016 study from AGB.
Meanwhile, faculty representatives on the board are less common. Among public institutions, 10.9% have voting faculty trustees and 9.6% non-voting faculty trustees. Among private institutions, 15.4% have voting trustees and 15.1% have non-voting faculty trustees.
But whether faculty and students actually vote in their own self-interest remains under-researched, said Dr. Jon Lozano, an independent scholar who has published several papers on the role of students in university governing, including one that specifically explores conflict of interest among student trustees.
From the research he's seen and conducted, he says, "there's not really that much of a sign that student trustees actually vote primarily based upon self interest. They are able to take a broader view of the holistic area of all the issues facing the university even during a relatively short tenure compared to most other governing board members."
When considering Howard's recent decision, Lozano thinks it would have been better for Howard to keep its faculty, student and alumni trustees. For one thing, it's quite rare to remove those positions once they've been added. Neither he nor Schwartz could think of any other institution that had added student trustees, only to later remove them.
"Getting rid of a position sends, I think, the wrong message in terms of including student perspectives," Lozano said. "Because it's more common for these private universities to add them than to later eliminate them."
But, he added, "if the board has developed an engagement plan for how to regularly include more diverse student voices, then that would be a positive thing."
He explained that, quite often, an undue amount of burden is placed upon the student trustee to represent the entire student body, which is inevitably filled with "a variety of different perspectives and lived experiences."
Oddly enough, that could be why his own research has found that student government leaders at universities without a student trustee reported feeling more listened to by their university's governing board than did student government leaders at universities with a student trustee.
Personally, Lozano thinks those findings could come from the fact that there may be "more direct outreach from the board members to the students at those universities without student trustees." Whereas, at a number of universities that had student trustees, he said, "they're relying on that student trustee to do a lot of that kind of outreach for them." And that can be difficult to do, he said, especially when that student trustee has to juggle board responsibilities with classes, coursework, jobs and extracurriculars.
That's why Lozano stressed it's essential that, in light of its recent decision, Howard's board create "an engagement plan for how to regularly include more diverse student voices."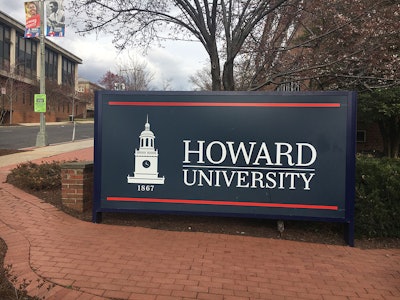 According to Morse, it already has one. Aside from last month's town hall, Morse said the Board plans to regularly consult a "wider, more comprehensive group of university stakeholders" through formal presentations by faculty in different areas of expertise, rotating stakeholder participation at board meetings, board dinners and fireside chats, among other forums.
Still, Lozano and others say they would rather see a combination of the university engaging in those events while also keeping its affiliate trustees.
In his open letter to Howard, Newman explained that, although he understood the reasons given by the board, "in my opinion they pale in comparison to having the more robust debate and engagement of all stakeholders being represented at the table when important, material decisions are being decided."
He described one moment during his three-year tenure on the board, in which the board "faced a monumental decision that was debated well past 2 a.m." According to Newman, had it not been for his voice at the table as an alumni trustee, the university may have not "dodged a bullet that could have had devastating consequences."
But, for AGB's Schwartz, there remains another issue at heart when it comes to student trustees: Do they have the real-world experience that's necessary to fully understand and navigate the complex challenges facing a university?
"The work of a board of trustees has become extremely complex," said Schwartz. "If you think of what we have gone through during this pandemic, for instance, and the number of board meetings, the amount of crises that were faced, it's a really tough job with very big consequences. And having experience in the world, having a wide range of diverse perspectives on the board is very important."
She continued: "It's not that the input of students in decision making is unimportant; it's just there's a lot of different ways in which to get that input."
Indeed, one study examining the experiences of student trustees found that many felt overwhelmed after facing the "incredibly complicated business of governing a university in the 21st century."
"Student trustees reported dealing with much larger and more complex issues than perhaps a 22-year old should be dealing with, such as budgetary decisions, long-term strategic planning, votes to increase student tuition, and presidential search processes," wrote the study's authors, who said the student trustees often deferred to the administration's point of view in those instances.
Yet, in that same study, the authors say they also encountered students who, once acquainted with the role, became confident in their abilities as board members and felt they had learned and contributed a great deal to their respective institutions. That there is limited research on the experiences of student trustees, the study concluded, makes it difficult to assess the current impact of their roles.
Consequently, the debate at Howard continues. Whether affiliate trustees make valuable and insightful contributions to university governing boards or whether they face conflict of interests and challenges that are overwhelming appears to remain the contentious question.
Jessica Ruf can be reached at jruf@diverseeducation.com
Editor's Note: This story has been updated.