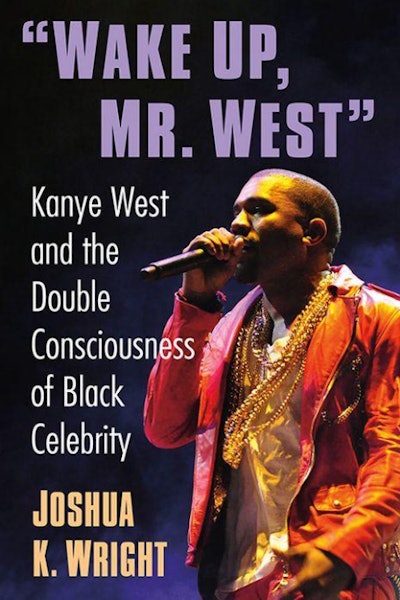 Being a Kanye West fan (or a Yeezy or Ye fan, as he is also known) has been a journey, and not always an easy one, said Dr. Joshua K. Wright in his latest book on the notorious hip-hop producer, rapper, artist, and fashion designer.
"I think Kanye is so complicated," said Wright, author of Wake Up, Mr. West: Kanye West and the Double Consciousness of Black Celebrity. "I mean, that's the best word that I can use for him."
Wright, an associate professor of history at Trinity Washington University in D.C., explores West's two decades of stardom, his seemingly hypocritical political views, and the duality experienced by Black celebrities trying to negotiate the needs of community and the pressures created by a white-centric society.
"Even though this book is focused on Kanye West, Black people for the most part could relate to these experiences to some extent, when we talk about having to navigate and be successful in these two different worlds," said Wright.
Wright has been interested in West since 2001, when West helped produce Jay-Z's album The Blueprint. Since then, West has gone from his civil rights roots to wearing a Donald J. Trump inspired MAGA hat. West's mental health troubles and his very public split from ex-wife Kim Kardashian have all been in the background to his incredibly successful career. He has been nominated for 75 Grammys and has won 24, including two this year.
"A lot of what Kanye has done, not just in the last five years of Donald Trump, but back to the very beginning, has been very problematic," said Wright. "With someone like Kanye, a lot of what I hear tends to be somewhat shallow. I just wanted to have a more in-depth conversation about Kanye West. I thought it was important to put him in this larger conversation of celebrity, in particular Black celebrity here in America."
Wright explores this concept through the idea of double consciousness, a term first coined by Dr. W.E.B. Du Bois in an 1897 essay and later in his 1903 tome The Souls of Black Folk.
"[Du Bois] argues that Black Americans had two competing identities, seeing themselves as American and seeing themselves as Black people living in white-centric American society," said Wright. "You're a Black person, you have this connection to the Black community, to Black culture, to Black history. But you're also an American, and you're trying to assimilate, make it within this mainstream American society."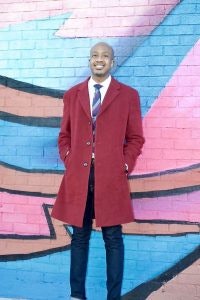 During Jim Crow and segregation, Black celebrities were often allowed access to elite environments that excluded Black people. But that access did not stop racism. Hattie McDaniel, the first Black person to win an Academy Award in 1940, was barred from sitting with her white counterparts at the ceremony.
Meanwhile, Black celebrity successes and failures were watched closely by the Black community.
"If they did well, it was seen as a win. But if they did badly, especially on a public stage, then that could be a big stain for the Black community," said Wright. "As a Black celebrity, you have to be mindful of these different worlds. It's walking a tightrope between these two audiences."
Artists like West who find great success in the white, mainstream culture, can find themselves losing support from the Black community, said Wright.
"People feel as though you're forgetting about us, that you're turning your back on us. Maybe you're watering down your art, your music, maybe you're not taking political stances because you don't want to offend that white fan base," said Wright.
Wright said many in the Black community took issue with West's association with Trump, but West seemed unbothered by the backlash.
"I think with Kanye, he's always going to speak his truth, it's just the fact that [he] can really be all over the place," said Wright. "It's that inconsistency, and a lot of that could be attributed to mental health."
In 2016, West revealed he had been diagnosed with bipolar disorder. Shortly after that, he conducted a now infamous interview with TMZ, where he alleged that slavery had been a choice for African Americans. West issued an apology in 2018.
But West's inconsistencies and latest controversies, including being barred from the 2022 Grammys and harassing his ex-wife's new boyfriend, Pete Davidson, can make it difficult for old fans to listen to West's music or for new fans to engage with him.
"Can we listen to any other album that he's put out over the years? Can we throw on a pair of Yeezys' sneakers, but then say, 'I don't really care what he said about slavery, I don't care what he said with Donald Trump? I don't care that he has this misogynistic behavior towards women in general?'" asked Wright.
By asking the deep questions about West, Wright believes it can make it easier for readers to ask those questions of themselves.
"Everything celebrities do is so magnified for the rest of the world to see, that we could look at it and we could critique Kanye West," said Wright. "But I think we could also find points in Kanye's life to critique things about ourselves as well."
Liann Herder can be reached at [email protected].