Fugitive Pedagogy: Carter G. Woodson and the Art of Black Teaching, is the winner of the Frederic W. Ness Book Award from The American Association of Colleges and Universities (AAC&U). The annual award is given to a book that best illuminates the goals and practices of a contemporary liberal education.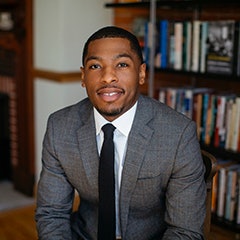 Author Dr. Jarvis R. Givens will be presented the award at AAC&U's annual meeting Jan. 19, 2023. Givens is an assistant professor at the Harvard University Graduate School of Education and a faculty affiliate in the Harvard Department of African & African American Studies.
Published by Harvard University Press, the book discusses practices of U.S. Black education that Givens calls a tradition of "fugitive pedagogy."
"I'm so pleased that AAC&U recognizes, through my book, the important lessons Black educators of the past can teach us about pursuing meaningful education in the face of tyranny and willful ignorance," Givens said. "I trace Black people's particular experiences of navigating race and power in American schools, but at a fundamental level, I'm also concerned with the universal story about an enduring human struggle over our approach to knowledge, what constitutes its parameter, and who gets to have a say in that process.