Of all the things that shaped the career of longtime theater director Sheldon Epps, few rank as high as the time he spent as an undergraduate at Carnegie Mellon University.
It was on the campus of the Pittsburgh-based school from 1969 to 1973 that Epps met three of the four actors with whom he would go on to start his first production company. While Epps says he was "lucky" to get accepted into Carnegie and ultimately form relationships that would lead to his first big break, getting through Carnegie itself was anything but simple.
"The main thing I remember about Carnegie is it was very, very hard and very stressful," Epps said during a 40-minute video conference interview with Diverse. "Long, long days. Long, intense days."
And things didn't get any easier from one year to the next.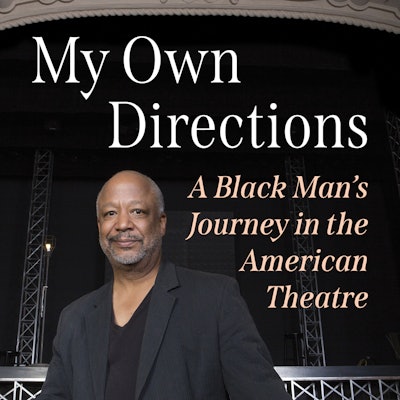 "You kind of knew from the time you got there that you had to be invited back every year," Epps recalled. "So every year was like a continuous audition. In my class of forty, only seven of us graduated. So between the people that weren't invited back or the people that it was too much [for] or they changed their mind, my class got smaller and smaller and smaller."
Epps tells the story of his forays into the world of acting and directing in a newly-released memoir titled My Own Directions: A Black Man's Journey in the American Theatre. The book comes as Epps is about to turn 70, which he will do in November.
Epps says he hopes his book will inspire young aspiring artists to make their own way and not allow others to define what their roles should be.
"The biggest thing that I hope young artists will take from it is that they shouldn't be defined by restrictions that come from the outside," Epps said. "They shouldn't be defined or confined by the outside world saying 'you're a woman, you're a person of color, you're a Latino, you're Black, you're Asian, therefore, you can only do that kind of work.
"Pursue whatever kind of work you want to do and aspire to do as long as you're prepared to do it and you're prepared to do it with excellence and you have a passion for it," Epps continued. "Don't let the outside world tell you what you're capable of and that's true in leadership as well.
"For a long time we were told people of color can't be leaders of the theaters. Well, that's bullshit. We can. We can do that quite successfully."
Epps should know. From 1997 to 2017, he served as artistic director at the Pasadena Playhouse – the same place where, as a child, he got his first taste of the fine arts.
"My father was a Presbyterian minister. In addition to having Sunday services, he just believed that arts were really important to introduce to young people, and particularly to young Black people," Epps recalled. "So, every Saturday, we would go somewhere to have some arts experience. So if it was seeing the symphony or a dance concert, or a jazz concert or going to the theater, it was through my father's church."
Later, Epps moved to New Jersey, and he and his mother used to visit nearby New York City to see musicals on Broadway.
"I saw some incredible things," Epps recalls. "You know, I saw Sammy Davis, Jr. in 'Golden Boy.' I saw Pearl Bailey in 'Hello, Dolly!' I saw Leslie Uggams, who I later worked with, in 'Hallelujah, Baby!'"
"Seeing all these beautiful Black and brown faces on the stage with great talent and great dignity, great assurance, really being in charge, I think subconsciously really ignited something in me and made me want to do it," Epps said. "And that's why I started acting."
Epps said he was moved in part by the Black Lives Matter protests of 2020 to finally start writing his memoir. The pandemic gave him even more time to focus on the memoir, which deals with the role that race played in his career and the need for more diversity in American theater.
For Epps, true theatrical diversity "has to be panoramic."
"It's not just about putting Black people and actors of color on the stage," Epps says. "It's also about who is in the audience to receive it. It's about who's producing it, who's designing it, who's directing. It's about who's reviewing it with the theater critics that are receiving it and writing about it.
"It's got to be honest and it's got to be organic," Epps continued. "I've often said I'm not interested in productions of plays that are what I call 'dipped in chocolate,' where you just take a white play and cast it with Black actors or Latino actors or whatever. You can do that, but then you need to explore what it means that an actor of color is playing that role."
The path to Carnegie Mellon started with a dare when Epps was still in high school in the late 1960s.
Epps and his fellow students in the high school drama club were figuring out where they'd go to college. "One of the other people in that small group said, 'Well, you should apply to Carnegie but you'll never get in. So I dare you to apply,'" Epps recalled.
At that time, Epps said, Carnegie Mellon would audition 500 or 600 students from throughout the country but would only accept 40.
"Maybe if I'd known how hard it was to get in, I might have been more intimidated," Epps said.
Although Epps was one of just a few Black students enrolled in Carnegie at the time, he bonded with the members of his class who stuck with the program because of how difficult it was to get through it.
"So I didn't feel isolated because that group of us that was still there was really tight," Epps explained.
After graduating and acting for several years, Epps teamed up with three fellow graduates from Carnegie and a fourth person to start their own production company, called simply: The Production Company.
Starting the company was difficult but it ended up giving Epps his first big break.
"It was very rough and tumble and no money, but a lot of passion and I did the show there called 'Blues in the Night,' and that show eventually went to Broadway and West End and Japan and I directed it maybe 20 times all over the country, so that was that was the first big door opener."
Epps also went on to a notable career in TV, having directed episodes of shows that range from "Frasier" and "Friends" to "The George Lopez Show" and "Everybody Loves Raymond." He was also producer/director for the hit series "Girlfriends."
Epps – who has taught acting, directing and theater management at a number of colleges, including USC, UCLA and Yale, to name a few – now serves as artistic director at the Ford's Theatre in Washington, D.C.
"If you look at the seasons recently, certainly there's been a lot of focus on serving artists of color," he said of the Ford's, noting "Shout, Sister, Shout" and "Grace" as examples of works by writers of color. Epps said he also hopes to do more outreach to diversify the audience.
"The Ford's, like many other theaters, was not at a time welcoming to audiences of color," Epps said. "So the first thing you have to do is to extend that welcome to people – if they haven't been previously welcome – to let them know: We really do want you to be here."