Sophia Rosing, 22, the white University of Kentucky (UK) senior caught on video assaulting Black students will voluntarily withdraw from the school, her lawyer said Nov. 8, NBC News reported.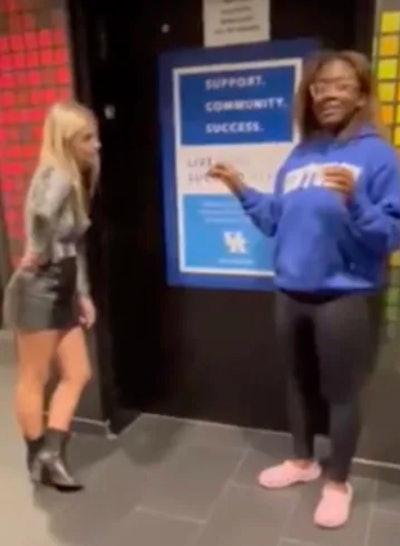 Rosing was captured on video visibly intoxicated and assaulting UK first-year Kylah Spring and repeatedly calling her a racial slur on Nov. 6. Rosing also attempted to kick Spring and punch another student — who also appears to be a Black woman — as they try to restrain Rosing and put her in a chair, though it is unclear whether she actually struck either.
The video ends with a white male police officer handcuffing Rosing as she continues to repeat the racial slur and struggles to remain standing. She kicked and bit a police officer and told him she has "lots of money" and gets "special treatment," according to a police report.
"She's going to withdraw from the university today or tomorrow," attorney Fred Peters said, adding that he is "getting [Rosing] into some kind of treatment program and sensitivity program to help her through this situation."
Rosing was arrested Nov. 6, and charged with intoxication in a public place, third-degree assault on a police officer, fourth-degree assault and second-degree disorderly conduct, according to Fayette County Detention Center records.
She has pleaded not guilty, waived a formal arraignment, and is due back in court Nov. 15.
UK's president condemned Rosing's actions in an email to students on Nov. 6.
Phi Beta Sigma organized a rally Nov. 7 to support Spring and condemn racism, WLEX reported.
"You will not break my spirit, and you will be held accountable for your actions," Spring said, referring to Rosing. "I only pray that you open your heart to love and try to experience life differently and more positively after this."
Spring said the assault was indicative of a recurring issue in America's schools.
"I am deeply saddened by the events that took place, but I'm most grateful for justice that is to come," Spring said, urging her fellow students to "continue to address this situation with grace and humility, and keep your heads held high, and lean on each other as we heal ourselves and our community."
This is not UK's first racist incident. In 2008, a UK student and another man were arrested, accused of, but ultimately not indicted for hanging a life-size likeness of President-elect Barack Obama from a tree on the campus.