In time for Black History month, SUNY Cortland will be formally having its inaugural Abraham Lincoln DeMond 1889 Day, in honor of the school's first African American alum – in 1889 – amid prejudicial policies and segregation.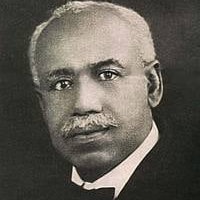 The annual event will begin at 6 p.m. on Feb. 1, in the Corey Union Function Room. Speakers will include Pittman; Ernest Logan, president emeritus of the American Federation of School Administrators; and Cortland President Dr. Erik J. Bitterbaum. Registration is optional but recommended.
DeMond, born in Seneca, N.Y., attended the Cortland Normal School, which later became SUNY Cortland. Then, as a politically active pastor, he delivered an address on African American rights at the Dexter Avenue Baptist Church in Montgomery, Alabama, the same church from which Martin Luther King Jr. helped launch the civil rights movement.
"I wanted to remind everyone of the power this one Black man had and the influence it carried, and hopefully it will inspire more students of color or students in general," said Tatum Pittman, a Cortland student who had created the idea of a special DeMond Day. She is director of diversity, equity, and inclusion (DEI) for the Student Government Association.
A glass case will display items such as a recent portrait of DeMond with his graduation year, a letter DeMond wrote that was published in the local Cortland Standard newspaper; a copy of the oration he gave at Dexter Baptist Church; some published works from Cortland's Young Men's Debate Club; and a proclamation from State Senator Lea Webb for the inaugural day.
"I hope Abraham Lincoln DeMond Day opens up a new door of recognition for the Black community on campus," Pittman said. "I also hope it allows us to understand our history at SUNY Cortland and the importance of the fight for equality and how, like President Bitterbaum stated in his latest message to the campus, that fight must continue today in our own students."
In the years to come, DeMond Day will be used to honor other African American alumni.