Nearly 50 early career scholars and advanced graduate students from across the nation gathered in Chicago on Wednesday, ahead of the annual meeting of the American Educational Research Association (AERA) to explore questions and methods related to the experiences of African Americans in education.
The 13th Asa G. Hilliard III and Barbara A. Sizemore Research Course on African Americans in Education was led by Dr. Jerlando F. L. Jackson, dean of the College of Education at Michigan State University and Dr. Chance W. Lewis, the Carol Grotnes Belk Distinguished Professor of Urban Education and director of The Urban Education Collaborative at the University of North Carolina at Charlotte.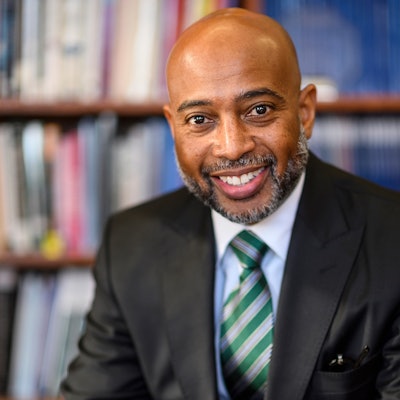 Attendees were exposed to the fundamentals of developing a research agenda and career focused on conducting research on African American populations in education and heard from leading scholars including Dr. Sheneka Williams of Michigan State University, Dr. Fred A. Bonner II of Prairie View A&M University, Dr. Krystal L. Williams of the University of Georgia, and Dr. Gloria Ladson-Billings, professor emerita at the University of Wisconsin-Madison.
The research course is named after Dr. Asa G. Hilliard III and Dr. Barbara A. Sizemore, two pioneering African American educators.
Hilliard who was an American researcher, historian, psychologist, and educational theorist. Hilliard was a preeminent scholar in the fields of education, child development, and social policy and was widely recognized as one of the leading experts in the field of culturally responsive education. His pioneering work on child assessment, teaching and curriculum, and African culture was grounded in his commitment to promote the genius and excellence of all children.
Sizemore was an American educator, author, and educational theorist. In 1973, she became the first African American woman to head the public school system in a major city, when she was elected superintendent of District of Columbia Public Schools. As a scholar, she made significant contributions to the field of education, particularly in the areas of desegregation, culturally responsive teaching, and academic testing.
The course was sponsored by The Organizational Disparities Laboratory (ODL) at Michigan State University and The Urban Education Collaborative at the University of North Carolina at Charlotte, with support from the Educational Testing Service (ETS).