Four Pennsylvania men have been charged after a Black Lehigh University student was allegedly called a racial slur, chased to his dorm, and assaulted, CNN reported.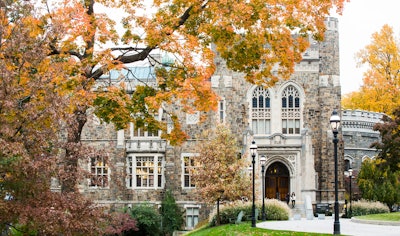 Brandon John, 22, was charged with simple assault and harassment; Michael Rosta, 21, with burglary and simple assault; Nabil Jameel, 22, with simple assault; and Cameron Graf, 22, with simple assault and harassment.
"The information is completely inaccurate. No one is guilty of anything at this time," Jameel said.
None have any connection to Lehigh, the District Attorney's office said.
"Northampton County has zero tolerance for this type of lawless behavior, and the defendants will absolutely face the consequences for their senseless actions," District Attorney Terry Houck said. "Students have a right to feel safe when they are on or around campus."
On Apr. 15, the four allegedly drove past the student and Graf allegedly yelled the n-word racial slur at him from the car, according to a police affidavit. The victim told police that he ran after the vehicle, hit his hands on the trunk, and briefly touched one of the four men before continuing to walk home, the DA's office said.
"The victim told the officers the vehicle then turned around and parked, and a group of males got out of the car and chased him and his two friends," the DA's office said in a Tuesday news release. "The victim stated the group of males surrounded them just south of Packer Avenue and one of the males struck the victim before he was able to get away and run back to his residence hall on campus."
Graf was who allegedly struck, the police affidavit states.
All four men allegedly chased the victim on foot into his dorm building. And one witness told police she saw one of the men pull a firearm as he banged on the door of a room where the victim had locked himself in, according to the news release.
Police identified that the driver was John, who admitted to being involved in an altercation with the victim. Rosta, Jameel, and Graf have also admitted their involvement.
Hate crime charges, as currently written in Pennsylvania state law, are not supported by the case evidence, said Davin Jurgensen, public relations administrator for the Northampton County DA's Office.
Rosta is due in court May 15 for a preliminary hearing. John, Jameel, and Graf have hearings scheduled for May 26.