Morgan State University's marching band, the Magnificent Marching Machine, will be the first from a historically Black college or university to participate in the international D-Day Normandy Parade in Normandy, France, on June 6, 2024.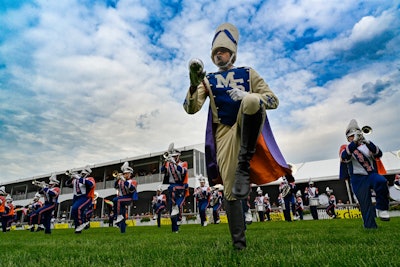 The appearance of the 152-person band – made possible with the support of the American Veterans Center – will be led by Dr. Jorim E. Reid Sr., Morgan's director of bands and will honor those who served, including the more than one million African-American men and women that served in the Armed Forces during World War II.
They will perform "America the Beautiful" and "Tribute to (Fallen) Americans," and will place a wreath at the Normandy American Cemetery.
"When we think of the historic events that have shaped the 20th century and the decades thereafter, the courageous moments that took place on the beaches of Normandy, France nearly 80 years ago, are among them," said Dr. David K. Wilson, Morgan State's president. "The opportunity to have our students not only represent our university but also our nation on such a grand world stage in recognition of such a monumental occasion is truly an honor. Our thanks to the event organizers for their recognition of the talented student performers we have at Morgan, and for providing them with this lifetime experience allowing them to touch history.
Morgan State will fundraise to cover associated costs for the trip.
"It is truly a tremendous honor and opportunity for our student musicians to travel abroad and give a performance of such historical significance," said Tara Turner, interim vice president for institutional advancement at Morgan. "However, this honor comes at a substantial investment and the entire Morgan Community — far and wide — will need to be tapped to help raise the resources needed to underwrite travel and accommodations for our beloved band. We are looking to our alumni, donors, [and] the business community for their support, and hope that our community can make this experiential performance abroad happen for the students."