HOUSTON—The National Urban League kicked off its annual conference last week, celebrating two decades of Marc H. Morial at the leadership helm of the 113-year-old civil rights organization.
"We are engaged in a battle for the future of this nation," said Morial, who previously served as mayor of New Orleans from 1994 to 2002. "It is clear that the progress, hard fought, since the Brown decision, is under assault on every front. From the Supreme Court to right-wing state legislatures, to cable talk shows, to the utterance of some governors, presidential candidates, members of Congress and the United States Senate—it seems they are trying to bend that moral arc not toward justice, but backward to a dark time, long ago."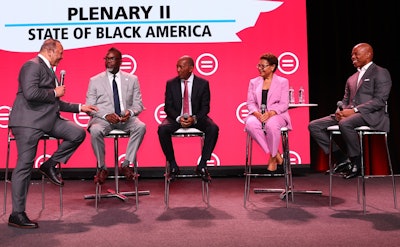 During his State of the Urban League address this year, Morial took particular aim at the governors of Florida and Texas, who he said, have engaged in widespread voter suppression, as well as a litany of other assaults on American democracy, including the gerrymandering of legislative districts, the banning of books and working to restrict reproductive rights.
"We have come to Houston because Texas seems to be in a race to the bottom of the barrel, reveling in the rolling back of civil rights and advancing the cause of racial injustice, not justice," Morial said.
The three-day conference which brought thousands to the Lone state, included a fireside chat with civil leader, the Reverend Al Sharpton and Melanie Campbell, President & CEO of the National Coalition on Black Civic Participation and the convener of the Black Women's Roundtable. The two talked about the importance of next month's March on Washington to commemorate the 60th anniversary of the 1963 march, where Dr. Martin Luther King Jr., delivered his famous "I Have a Dream" speech.
"Marching does not solve a problem, it exposes problem," said Sharpton.
On Friday, four Black Mayors—Sylvester Turner of Houston, Eric Adams of New York City, Karen Bass of Los Angeles and Brandon Johnson of Chicago—engaged in a discussion about the ongoing attacks on democracy, including the educational system in their respective cities.
"We have to recognize that the George Floyd moment produced a moment of racial reckoning in this country, and now there is backlash," said Morial, in an interview with Diverse. "That backlash is manifesting itself in voter suppression, book bans, anti-corporate DEI and affirmative action policies and anti-LGBTQ policies. Battle lines have been drawn and we have a responsibility as the National Urban League to lead the fight for a more diverse and inclusive American future and for an America that is an America for all."