The percentage of Black men in the teaching profession is dwindling and only getting worse, experts stressed during a webinar held on Wednesday.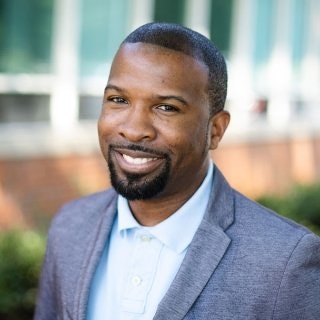 The webinar, "Fostering Black Male Teachers' Sense of Belonging and Success in Education," brought together several panelists to discuss the dearth of Black male teachers.
The panel was hosted by Dr. Terrell Strayhorn, director for the Center for the Study of HBCUs at Virginia Union University; and Dr. Clarence McFerren II from Virginia State University.
"We know the statistics, we know the numbers," said panelist Dr. LaRon Scott, associate dean of DEI at the University of Virginia's School of Education and Human Development. "We know that there's been a very low number of Black male educators in the profession for quite some time."
Black men accounted for only 1.3% of public school teachers in the 2020-21 school year despite Black children comprising 15% of public school students in Fall 2020. Five years earlier, it was 1.7%, indicating a continuing decline, according to panelist Dr. Travis Bristol, an associate professor of teacher education and education policy in UC Berkeley's School of Education.
Black teachers in general make up only 7% of the teaching workforce.
"The difference between the racial and ethnic identities of teachers and students, in my opinion, it sends a very powerful message about who is trusted with power and authority in our society," Scott said. "And further, it significantly impacts student outcomes, not just academic achievement, but high school graduation rates, their intent to enroll in college and universities, and ultimately their adult outcomes."
Scott said research has shown that, despite observable overall increases in the percentage of Black people receiving bachelor's degrees, the number of Black people earning degrees in education and special education has decreased from 1994-2019.
He also noted that HBCU status was positively related to education degree production for Black students.
The experts cited several reasons for the shortcomings in recruiting and retaining Black men in teaching, including how the job's low wages served as a deterrent to teaching; how lack of representation discourages students from pursuing the career; how teachers feel undervalued and not recognized; and how teachers themselves may dissuade students from going into teaching because they "can do so much more with [their lives]."
"As an African American male in the classroom, if you don't see yourself within that setting, you start to say to yourself: 'Well, maybe this was not the profession for me because I don't see myself,'" said panelist Dr. André Green, dean of the East Carolina University's College of Education.
One key issue brought up was inequitable working conditions and responsibilities put on Black teachers, which contribute to disproportionate attrition rates among teachers, especially special education teachers, Scott said. He added that the fault rest not just with administrators but with policymakers as well.
"A Black male teacher may face additional responsibilities for students of color in a predominantly white space, where students' needs aren't being met," Scott said. "And this places additional [demands and burdens] on their time and energy, extending beyond the normal teaching responsibilities."
Bristol noted that Black men in teaching seem to be concentrated and tracked into the most challenging schools.
"So what happens when you track people into places that aren't there to allow them to do their best work? They leave," he said.
He added that Black men teachers had some of the highest turnover rates.
During the webinar, the panelists suggested solutions to help remedy the issue, such as training for principals to better support teachers into staying. Green suggested stronger mentorship efforts to increase teacher retention.
"I know what it feels like to be a first- or second-year teacher, where you can't wait for Christmas to come because you just need a break or if you just need someone to talk to about [a student who just isn't paying attention]," Green said. "Sometimes, having someone to talk to is a real thing. And if you're an African-American male – I'm just saying this from my own perspective – not having someone to talk to ... to discuss how you feel can create that sense of isolation.
"If we're going to retain the people that are there, you have to have good mentorship programs."