ATLANTA--
Hundreds of Black scholars gathered in Atlanta over the weekend to participate in the 11th annual conference of the Black Doctoral Network (BDN).
Now in its 11th year, this year's conference included keynote addresses by author and entrepreneur Dr. George Fraser, and Dr. Kris Marsh, an associate professor of sociology at the University of Maryland. Past speakers have included a wide range of prominent scholars, most notably Drs. William Julius Wilson, Cornel West, Julianne Malveaux and anti-racist writer and activist Tim Wise.
"This is our biggest conference where we've had the most first-time attendees," said Dr. Deandra S. Taylor, executive director and conference chair of the BDN. "One of the big things with our conference is networking and collaboration," she said, adding that dozens of sessions from all academic disciplines were included across the three-days of the conference.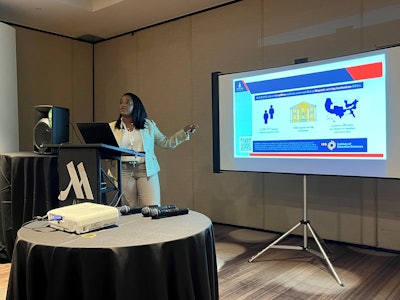 "Whether you're a student, a scholar, a veteran in your field, there is always something here for you either to deposit or to receive," said Taylor, who noted that BDN is looking to expand its programming efforts beyond the national conference held every October and will continue to host its Western Regional conference in Los Angeles in the spring.
The BDN conference has become the go-to place for Black scholars looking to address some of the nation's most vexing challenges. The sessions are solutions- oriented and participants are strongly encouraged to take an interdisciplinary approach to tackling some of these issues through participatory research.
This year's conference was supported by a number of institutions and organizations including Vanguard Sports Academy, the Educational Testing Service (ETS), Loyola Marymount University and Nova Southeastern University.
Some of the workshop topics included "Marginalized & Minoritized: Perspectives on Serving Students of Color in Higher Education," "Optimizing STEM Throughout the United States," and "Strategies to Support Black Transgender Students."