The University of Phoenix (UOPX) hosted a virtual panel Thursday centered on hearing from those in the nation's multigenerational workforce.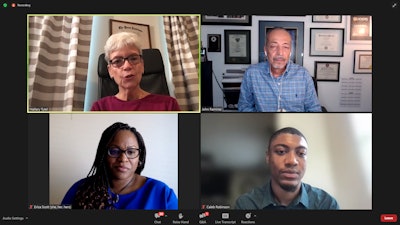 The hour-long, mid-day webinar, "Voices & Perspectives of a Multigenerational Workforce," was the second of a series focused on the multigenerational workforce. The first webinar discussed bridging generational difference gaps in the workplace.
Thursday's webinar focused on learning from the experiences of different generations, different industries, different education paths, and different careers. The three panelists included John Ramirez, dean of operations at UOPX's College of Doctoral Studies; Erica Scott, director of people and culture at the MAPS Public Benefit Corporation and founder of Civilian Connections; and Caleb Robinson, a public affairs intern at SKDK and recent Howard University graduate.
The panel was moderated by Dr. Mallary Tytel, a professor at Grand Canyon University's College of Nursing and Health Care Professions and founder of Healthy Workplaces.
Ramirez said that a significant issue that generational differences present to the workplace is that of potentially stereotyping people as part of the generations they are from.
"I think that when we start to put people in boxes, it is an injustice to them and it's an injustice to the organization," he said. "It's important that people realize that people are not stagnant. There is a maturation process that occurs. So even though there is defined differences with different generations, whether you're a baby boomer who is supposed to be stuck in their ways .. versus a Gen Z who supposedly lack interpersonal skills, we've got to remember that people mature with time, knowledge, the more education that they start to absorb. I think it's important that employers try to avoid those pitfalls, try to avoid the stereotyping, and do what they can to help facilitate that maturation process."
Robinson suggested that, to combat unconscious biases in the workplace, employers should make more of an effort to get to know their employees.
"For myself, when it comes to working with older people, a lot of times when it comes to senior leadership and junior leadership, we don't know each other," he said. "I don't know the people in upper management. They don't come talk to us. I don't know them, they don't know me. So then that's where the biases come in, because we don't know each other. You don't know the people who work for you. If I don't know the person I'm working for, then there's going to be automatic biases, because there's not communication."
Instead, Robinson championed the importance of "a collaborative workforce where you know the people you're working with from top to bottom, you know your organization, you know your CEO cares about you."
Even just introducing oneself to employees and making conversation can help build camaraderie, he said.
"It really tries to break down those biases and allows you to see them for who they are and outside of the workplace, you see the real them," Robinson said.
Scott stressed the importance of an organization's self-awareness and actual willingness for take action to improve when it comes to handling differences in the workplace.
"For you to acknowledge somebody else's identity, you have to know your own identity as a company. ... I'm talking about race, gender, veteran status, disability, ... and then you talk about it and you tell the company: 'This is who we are. This is our make-up. This is our demographics,'" Scott said. "And then you talk about what you're going to do about it. You have accountability at the executive level. You have measurements. And you have dates and deliverables. And you give the company updates. The biggest thing I've seen is that companies have all these goals and these missions, but employees don't feel a part of it, or they don't believe you. The big thing is the employees know who you are, they know your demographics. Just acknowledge what it is and then keep yourself accountable."
As part of a younger generation entering the workforce, Robinson said that younger people seek work-life balance, representation and diversity, and livable wages when evaluating places of employment.
"There's a difference between getting entry-level salary and getting paid something that you can't live off of," Robinson said. "A lot of times when we're getting these job offers, we're getting paid where it's like, 'I can't even live off this.' We should be able to get a wage where I can pay my rent, my bills, and not have to eat ramen every night for dinner. If you're not paying me something where I can live and eat, why would I want to work for you? You don't even want me to live. You don't even care about how am I able to live outside of the company."