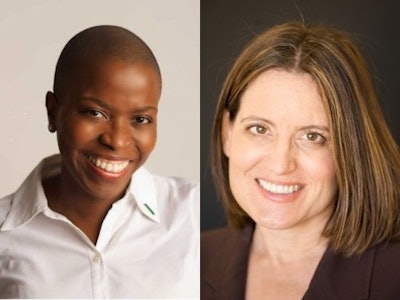 With Mother's Day fast approaching, the American Association of University Women (AAUW) organization released a report Thursday to bring attention to the need for community colleges to facilitate campus-based child care services as well as to highlight the potential of community colleges for enabling women to pursue careers in science, technology, engineering and math (STEM) fields.
The report, "Women in Community Colleges: Access to Success" pays "special attention to student mothers and the importance of child care in enabling the educational success of women at community colleges," said Dr. Catherine Hill, a report co-author and the AAUW director of research. The report recommends policies and practices aimed at helping women, particularly the more than 1 million student mothers, succeed in community colleges. It also focuses on the opportunities available in what have been nontraditional career fields for women, including those in STEM.
Joining Hill on Thursday during an audio news conference to discuss the report and its recommendations were her co-author and AAUW senior researcher Dr. Andresse St. Rose; Dr. Beverly Walker-Griffea, senior vice president for student services at Montgomery (Md.) College; Anne Hedgepeth, AAUW government relations manager; and LaKeisha Cook, a student at Montgomery College and single mother.
"Women are more than half of the 7.3 million community college students. And while we celebrate the accessibility that community colleges provide women we know that access alone is not enough," St. Rose said.
"Nearly half of women entering community colleges do not earn a certificate, degree, or transfer to a four-year college long after they first enrolled. The low success rate of women at community colleges deserves our attention," she said.
Focusing on the child care issue, St. Rose said that while the "more than one million mothers who attend community colleges are highly motivated to pursue their higher education to support their children and their families", the lack of campus-based access to child care has been one of "the main reasons for dropping out of school."
"Having on-campus child care is critical to the educational success of our student mothers. But less than half of all community colleges offer on-campus child care," St. Rose said. "In the report, we highlight how some community colleges, specifically in Arkansas, are already working to support student parents. More schools and states need to follow this example."
Among the recommendations for improving child care services, the AAUW says community colleges should:
1)    Assess the current demand for child care at their campuses to determine if they are meeting students' needs and, if not, determine how best to meet that demand.
2)    Apply for a Child Care Access Means Parents in School (CCAMPIS) federal grant. Campuses can use CCAMPIS funds to expand outreach to ensure that all student parents can take advantage of these services.
3)    Develop a referral system with local child care providers.
4)    Assign staff to work with student parents, which would send the message that supporting them is an institutional priority.
5)    Support student parent groups.
The report also recommends that Congress increase funding for the CCAMPIS program.
As a longtime advocate for child care services in community colleges, Montgomery College's Walker-Griffea praised the AAUW for linking the child care issue to that of STEM education and opportunities. She said that too few women in community colleges are attempting to "access the higher paying fields, especially in the newer technologies that will increase earning power."
"Why? One of the main reasons is the lack of support services for women training in these types of programs. The number one support service for female-headed families is child care," Walker-Griffea said. "There's the intersect."
St. Rose told Diverse that with many women not "earning degrees in some of the fastest growing and highest-paying" career fields, it made sense for AAUW to focus on STEM education at community colleges.
"We look at what are the barriers women face entering those fields at community colleges and what schools can do to improve upon [their] participation in those areas," she said.
Among its recommendations, the report urges that community college take an active role in recruiting women into STEM and other nontraditional fields. "Many women may not initially express an interest in nontraditional or STEM fields, but community colleges can enhance outreach and marketing to women in these fields by developing recruitment materials that feature women and help demystify unfamiliar fields for women students," according to the report.