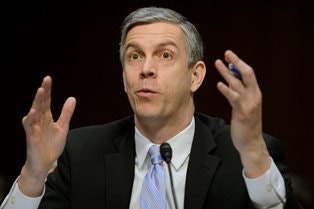 WASHINGTON ― Student lender Sallie Mae has reached a $60 million settlement with the Justice Department to resolve allegations that it charged members of the military excessive interest rates on their student loans, the federal government announced Tuesday.
The deal settles a government lawsuit that asserted the student loan giant violated the rights of service members by imposing interest rates above the 6 percent permitted by federal law and by improperly seeking default judgments against them. Separately, the Federal Deposit Insurance Corp. also announced a $30 million settlement arising from allegations that the company maximized consumer late fees.
The lawsuit was the Justice Department's first against owners of student loans. The settlement has been filed in federal court in Delaware and is awaiting a judge's approval.
"We are sending a clear message to all lenders and servicers who would deprive our service members of the basic benefits and protections to which they are entitled: this type of conduct is more than just inappropriate; it is inexcusable," Attorney General Eric Holder said at a news conference. "And it will not be tolerated."
Education Secretary Arne Duncan said all students who have taken out federal loans "should have the peace of mind" that they will be treated fairly. He said he has requested a review into whether Sallie Mae violated its contract with the Education Department through the overcharging practices.
Federal officials estimate that roughly 60,000 service members will be eligible for compensation as part of the settlement.
Sallie Mae spun off its loan servicing operation on April 30 into a separate entity known as Navient Corp.
"We offer our sincere apologies to the servicemen and servicewomen who were affected by our processing errors and thus did not receive the full benefits they deserve," Navient president and CEO John Remondi said in a statement. He said the company has made changes to "prevent these mistakes from happening again."
As part of the deal, Sallie Mae would also be required to ask the three major credit bureaus to delete negative credit histories resulting from the overcharges. The company has also agreed to streamline the process for active duty service members to receive student loans.