Nationally known disability rights attorney Carrie Ann Lucas, has died. She was 47 years old.
"[Lucas] died after an arbitrary denial from an insurance company caused a plethora of health problems, exacerbating her disabilities and eventually leading to her premature death," her family and friends wrote in a Facebook post on Lucas' page.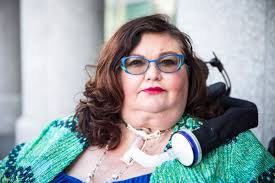 The ultimate cause of her death, in other words, was a result of her insurance company, UnitedHealthCare, refusing to pay for a certain inhaled antibiotic. Lucas caught a bad case of the cold in January 2018 and was denied access to necessary treatment which required her to take a less effective drug, according to Forbes.
The set of reactions Lucas experienced led to several health issues, such as the loss of speech and several visits to the intensive care unit throughout the past year. UnitedHealthCare refused to pay for the inhaled antibiotic allegedly to save $2,000.
Lucas began her career as a teacher before completing a master's program to pursue a path as a pastor. She face discrimination based on her disabilities soon after when she was seeking to adopt a child, which encouraged her to become a lawyer.
Lucas founded the nonprofit Disabled Parents Rights that is "dedicated to combating discrimination that impacts parenting for parents with disabilities. [Disability Parents Rights] provides direct representation, advocacy, and technical assistance to disabled parents, as well as their advocates and attorneys."
Lucas was also a huge advocate of Medicaid, as she was one of the nine people with disabilities who was arrested in 2017 after a 58-hour sit-in protest at Denver Sen. Cory Gardner's office after he and several other GOP senators purposed Medicaid budget cuts.
The Facebook post written by her friends and family concluded:
"For all intents and purposes, a shero of our community was murdered in the name of cost containment. This is why we MUST fight these measures with all we have. Insurance companies and government programs must not be allowed to deny people what they need. Just last month she was having to ration her insulin for her type 1 diabetes because of the same insurance company and how impossible it is to work between private insurance and Medicare and Medicaid. This is a great example of why people with disabilities should not be forced into insurance or health plans and why we need Medicaid as the primary health delivery system for this country."