Six University of West Florida (UWF) mechanical engineering students recently finished the first-modified vehicle of the ArgoTots program, which helps young children who experience limited mobility.
The vehicle was designed for 4-year-old Jack Carroll, who was born prematurely and has a form of cerebral palsy. Since he depends on his parents for mobility, the vehicle will allow more independent movement.
"This was a great way to give him that freedom," said Danielle Carroll, Jack's mother. "We could put him in it and with our help, he could take off and not have to have us necessarily next to him, helping him. Jack is definitely very determined, and he gives 100 percent in everything he does."
ArgoTots was inspired by the nationwide Go Baby Go program, and the idea to develop a similar program on UWF's campus was initiated by Dr. Brad Regez, an assistant professor of mechanical engineering.
"I realized there was great need and opportunity for a program of this kind in the area," said Regez.
It is one of 17 projects under UWF's Enterprise Program. The three-year program allows mechanical engineering students to gain hands-on design experience.
"[Within the ArgoTot program] students would retrofit, redesign and modify small kiddy cars to meet the needs of young people with special needs of some sort," said Dr. Michael Reynolds, chair of UWF's department of mechanical engineering.
The Enterprise Program aims to do more service-oriented engineering. Students are encouraged to stay with the same ongoing project for three years, but can switch if desired.
UWF students Fred Anderson, Selena Beasley, Isaac Brunet, Phillip Mitchell, Cody Sewell and Shane Smith were chosen to participate in the project beginning last fall. The students were then required to participate in certification and ethics courses, which authorized them to work with disabled children.
Through word of mouth and research, the students eventually learned about Jack, who had been nominated by his school, Capstone Academy in Florida.
Before designing the vehicle, the students contacted Carroll for measurements to determine the best fit for him. Through their conversation, they learned of Jack's love of tractors and decided to modify a John Deere tractor.
"We looked at what Jack's difficulties were and tried to accommodate them," said Brunet.
Since the majority of Jack's strength is on his right side, the throttle was adjusted and the steering wheel was enlarged to allow him to use them easily with one hand. A three-point safety harness was also installed to hold Jack in his seat and allow him to sit up unassisted.
A remote control was also created to allow Jack's parents to shut off the vehicle should a potentially dangerous situation occur.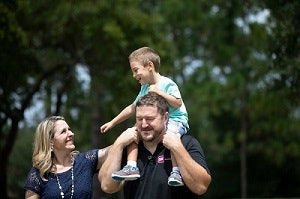 Throughout the process, the students tested materials, planned and documented their progress. They were required to give multiple presentations as well as present any issues that arose during the building portion of the project.
After months of planning and designing, the vehicle was donated to the Carroll family in mid-July.
Seeing Jack in the vehicle for the first time was a special moment for the students.
"It was super sweet," said Brunet. "He was a little bit confused on what was going on at first, I don't think he expected it go as fast as it did. But once he started going, he had a huge smile on his face. It was awesome. I look forward to be able to do it again in the future with more kids."
According to Carroll, although Jack did not fully understand that the vehicle was created specifically for him, he was excited to drive it around.
"He has developmental delays so he does understand," she said. "But at the same time, not like your typical 4-year-old. So he was excited when he got on it and started to go. Whenever it stopped, he was telling us he wanted to go more."
ArgoTots was also established at UWF's other campus in Fort Walton Beach. A modified vehicle has been designed there and is currently in the process of being donated to a child.
In terms of future plans, the program will continue to design modified vehicles but will also expand to modifying playground equipment for children with disabilities, according to Reynolds.
To streamline the process for families to find ArgoTots, Brunet said, the program plans to transition into using social media.
"We are very grateful for the ArgoTot program" said Carroll. "I think our community really needs it. There are a lot of kids with disabilities and developmental delays in our community, and I think it's going to be a great program to help those kids get the opportunity to be more mobile."
Sarah Wood can be reached at swood@diverseeducation.com.