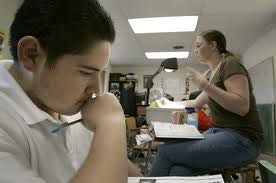 Eleven percent of U.S. colleges and universities now qualify as Hispanic-serving institutions, a figure that may grow substantially soon as more institutions inch closer to the designation, a new report says.
The nation had 370 Hispanic-serving institutions (HSIs) in 2013, an increase of nearly 60 percent during the past decade, said the new report from Excelencia in Education, based in Washington, D.C. In 2003, 242 colleges met the definition.
Under federal law, HSIs are accredited, degree-granting public or private nonprofit institutions where Hispanics represent at least 25 percent of full-time equivalent student enrollment.
While the numbers continue to increase, enrollment data also show that many other colleges and universities are poised to join the ranks of HSIs soon. Excelencia identified 277 colleges and universities as "emerging" HSIs, or colleges with full-time equivalent Hispanic enrollments of 15 to 24 percent.
"While emerging HSIs do not have the critical mass of Latino student enrollment required to meet the definition of an HIS, these institutions may soon meet the criteria as their enrollment grows and Latino representation increases," said Deborah Santiago and Emily Calderon Galdeano, authors of the report.
Current HSIs are concentrated primarily in five states and Puerto Rico. California has the most HSIs with 127, while Texas has 68 and Puerto Rico has 59. New Mexico, Florida and New York round out the top five states with HSIs.
Hispanic-serving colleges also are different from the average U.S. college and university. For example, 61 percent of HSIs have an open admissions policy, which is prevalent in only 38 percent of all U.S. degree-granting institutions.
That finding is significant, said Santiago, the organization's vice president for policy. "These colleges are less selective," she told Diverse. As a result, "They have to invest additional resources for students who may not be college ready."
Elsewhere, the report noted:
n Most HSIs, or 52 percent, are located in urban areas.
n 52 percent of HSIs are public or private two-year institutions.
n 38 percent, or 139 colleges, offer graduate degrees while 18 percent (66 schools) offer doctoral degrees.
These institutions also serve a majority of Hispanic students in higher education, Excelencia said. Overall, 59 percent of all Latino undergraduates attended HSIs in 2013.
One surprising finding is the size of most HSIs, Santiago said, as the typical one enrolls fewer than 2,000 FTE Latino students. "It means we're dealing with relatively small institutions and not state flagship institutions," she said.
Among emerging Hispanic institutions, the majority are four-year colleges and universities, the data showed. Private, nonprofit four-year institutions account for 38 percent of all emerging HSIs, while public four-year colleges represent 24 of the total.
California, Texas, New York and Florida have the most emerging HSIs, according to Excelencia. Yet Illinois, with 16 "emerging" colleges, could more than double its number of HSIs in the coming years. Currently, that state has only 13 colleges designated as Hispanic serving.
Massachusetts is another state that soon could see a significant increase. Despite having only two colleges that currently meet the definition, another 13 colleges and universities are on the list of emerging HSIs.
About half of emerging HSIs are located in cities, while 34 percent are in suburbs, data show. Small towns and rural areas account for 9 percent and 8 percent of the total, respectively.