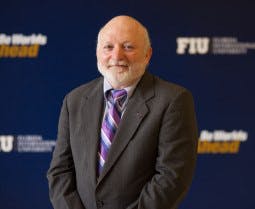 Dr. Jorge Duany, director of the Cuban Research Institute at Florida International University, says his institution has been exploring the possibility of bringing in 15 to 20 students from Cuba.
Something historic happened last January at Miami-Dade College. At a community college that stands as one of the nation's largest institutions of higher education with approximately 170,000 students spread across seven campuses, 15 foreign exchange students from Cuba arrived at the school for a semester of study.
Despite the trade embargo and the lack of formal diplomatic ties between the United States and the communist island nation, American colleges have maintained relationships with Cuban universities for the last several decades. Many send professors and students to Cuba for study or research. But this was the first time in more than 50 years that the Cuban government had permitted students to come to the United States to study.
The student exchange is just one of several examples of change by the Cuban government in recent years. The government has relaxed some of its hardline policies and restrictions on issues like foreign travel by Cubans, as well as property and small business ownership. Political observers say some of these changes are driven by a need for a greater infusion of cash into the island nation. This way, a significant number of Cubans get to travel abroad. Some of these emigrants don't return, but most send remittances back to relatives and friends at home, a move that significantly aids Cuba's tattered economy.
This new form of openness by the Cuban government could lead to more bridge building between colleges and universities in both countries.
International students from Cuba are already studying at American colleges in small but slowly rising numbers. According to Open Doors data supplied by the Institute of International Education, 76 students from Cuba were enrolled in U.S. universities during the 2012-13 school year, up from 57 the previous year.
"There is a great desire from higher education institutions in both countries to see an increase and broadening of U.S.-Cuba exchanges," IIE president Allan Goodman tells Diverse by email. "There are a number of U.S. college and university pioneers that have been bringing American students to Cuba for many years, but the opportunity for true mutual exchange remains challenging."
Continues Goodman, "Despite a host of challenges, institutions in both countries have expressed the need to expand exchange opportunities; not only for students, but also for faculty and researchers. The potential for collaboration is clear and the motivation is high, but institutions will need to continue to navigate the ever-changing infrastructure to ultimately see any results."
Some of the barriers to making programs like this happen are both financial and political. Most Cubans can't afford the thousands of dollars (in some cases tens of thousands of dollars) to study at an American college. Moreover, many U.S. politicians still have tough attitudes about a communist regime that's been running the Caribbean nation for 55 years. The state of Florida, for example, has a law that forbids public colleges from using state funds for Cuban-related programs or exchanges.
Most foreign exchange students pay their own way or get scholarships to come to the U.S. to study. The students' tuition, travel and boarding expenses were paid for by the Foundation for Human Rights in Cuba, which received a grant from a U.S. agency.
Students' experiences
The students are a diverse mix of gender, race and age. While some of the students are teenagers, others have college degrees or law degrees, says Dr. Victor Vazquez-Hernandez, chair of the Social Sciences Department at the Miami-Dade Wolfson campus and the designated college official who oversaw the process of recommending courses for the students.
In addition to English language classes, the students, who are in the states on a six-month visa and are scheduled to return home in July, took courses in principles of business, psychology of personal effectiveness, introduction to computers and introduction to sociology. In all, they earned 12 credit hours apiece.
"The 12 credits are all transferrable," says Vazquez-Hernandez. "They will transfer anywhere. The courses were chosen based on information we received about their needs."
Vazquez-Hernandez says the campus and the community have embraced the students. "They've visited all campuses," he notes. "They have had a chance to interact with students."
Vazquez-Hernandez adds that the students met with a broad spectrum of the student body, including student leaders.
"One professor invited them to visit her history of Cuba class. They attended graduation on May 2. They were very taken by it. The faculty has indicated that the students have adapted well. They've been nothing but welcomed with open hands."
As is typical with most international students, there have been some adjustments.
"It's been intense for them because they have a schedule that is pretty full," says Vazquez-Hernandez. "That took time to get used to. And the fact that they have free time — when you come from a system that is pretty regulated and no one is following you around — [that] took getting used to as well."
Expanding exchange
The exchange program at Miami-Dade College has attracted the attention of other colleges.
Dr. Jorge Duany, director of the Cuban Research Institute at Florida International University, says his institution had been exploring the possibility of having a similar program at FIU, hoping to bring 15 to 20 students from Cuba.
He says he was pleasantly surprised to learn about the arrival of the Cuban exchange students at Miami-Dade College.
"I was disappointed we weren't the first," says Duany, a professor of anthropology.
He says FIU still plans to have an exchange program with a Cuban college. He says they would like to focus on specific areas like business administration, computer programming, English, hospitality and tourism management. Those latter areas, Duany says, are critical for the Cuban economy. He says these kinds of programs can be vital in erasing decades of enmity between the countries.
According to Duany, FIU is targeting next summer for the program, but admits pulling it off is complicated. He says university officials are trying to coordinate interdisciplinary faculty. The university has also identified private partners who would work with them and help fund the program since state law won't permit the university to pay for it.
Duany says the academy is a great environment for bringing people of both nations together.
"The two countries don't have diplomatic relations," he notes. "So it is important to have this people-to-people contact. The university is probably the best place to have this happen."
Tomas Bilbao, executive director of the Cuba Study Group, a nonprofit organization in Washington, D.C., that has argued that the embargo is ineffective and counterproductive to U.S. interests, says the larger challenge moving forward will be how to expand programs like that at Miami-Dade College so it reaches a wider range of Cuban society and "not just singling out people because of their ideological beliefs."
"It's a great start," he says. "The more people we have, the more diversity of opinion, race, geography and gender, the better. We can't simply rely on one organization and one community college."
Bilbao adds that, while he understands the natural affinity for Florida, he would like to see more exchange students from Cuba spread throughout the country.
Jaime Suchlicki, director of the Institute for Cuban and Cuban-American Studies and a professor of history at the University of Miami, agrees that, for the program to have significant impact, it has to get bigger. But he says he's not holding his breath.
"The Cuban government is not going to allow it on a large scale," says Suchlicki, who left Cuba as a 19-year-old college student in 1960 and has not been back. "They are very concerned about penetrating influence. They are not going to allow it to happen on a large scale. There's a reason why they've been in power for (55) years."