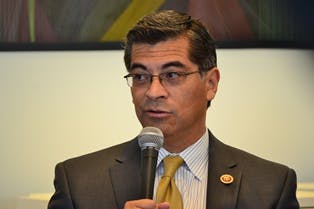 WASHINGTON ― Leaders from Excelencia in Education and Congress, as well as the business and foundation world, discussed the crucial role that Hispanic and Latinos will play in shaping the nations' future at a roundtable discussion Thursday.
"Every 10 years we confront the fact that Latinos are the second-largest community in this country, that the population continues to increase, and that by 2060 Latinos are projected to represent 31 percent of the total U.S. population," said Excelencia President Sarita E. Brown, whose organization is commemorating 10 years of work to improve Hispanic and Latino educational outcomes.
Brown referred to data from Excelencia's as of yet unreleased 2014 Factbook, The Condition of Latinos in Education. Factbook data are derived from a number of sources, such as the National Center for Education Statistics, the U.S. Census Bureau and the Department of Education Office for Civil Rights.
The good news is that overall, more Latinos are in the K-12 system and are going on to college.
"We are looking at a Latino participation in K-12 that is roughly 24 percent, projected to be 30 percent by 2023," Brown said. "Looking at the data, there has been ― this is very good news ― an increase in Latino college-going. In terms of the increase over the last 10 years, 2004-2013, [it has been a] 71 percent increase, from 3.8 million to 6.5 million."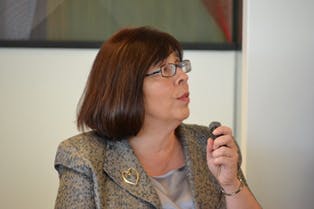 Yet in other areas, such as postsecondary attainment, the nation still has work to do.
"We do confront [the fact] that Latinos still have lower levels of postsecondary attainment," Brown said. "This country cannot meet our collective goals unless we figure it out in terms of the on-ramps for Latino talent into our society."
Brown said that the nation must look at how it serves all students, and assess whether or not those strategies will be effective, particularly in light of the changing demographics of the country.
'"What is absolutely the case is that the characteristics of institutions that are effective in serving Latino students are very effective in serving what we call post-traditional students," Brown said, adding that such institutions successfully accommodate the needs of students who may only attend school part time, have children of their own or are working in addition to pursuing their degree.
The conversation centered on which institutions are best serving Latinos. Panelists agreed that Latinos tend to go to institutions that serve "non-traditional students," such as community colleges.
According to Census Bureau data from 2013 and 2004, more Latinos earned an associate degree than a bachelor's degree in the past 10 years.
Felix Ortiz III, president and CEO of Viridis Learning, said that understanding community colleges would help shed light on barriers to Latino postsecondary success. So far, he said, venture capitalists who have invested in elements of the K-12 or university system tend to overlook the needs of community colleges.
"No one is really focused on the community college," he said.
William F. L. Moses, managing director of education at the Kresge Foundation, said that the "stereotypical" image of college — recent high school graduates living together in college dorms and going to school full time — is no longer representative of the nation's norms.
"The majority of students are living at home, they're commuting from another place, they might have a child, they're part-time students, they're at community colleges," Moses said.
Representative Joaquin Castro of Texas raised concerns about the pathway to college and postsecondary degrees. In states such as California and Texas, which are home to a large percentage of Hispanic students, there are too few college guidance counselors for the high school system. Castro called the present system "anachronistic."
First-generation students, he said, may be caught in a situation where they are forced to rely on advice from counselors who are spread too thin to provide the kind of guidance necessary to helping students attain their educational goals.
"If you look at our community college graduation rates and our university graduation rates, not just for Latinos but for all population, in many places, including my state of Texas, they're terribly low. So we've got to make sure we've set up an apparatus to make sure that we send people to college," Castro said.
Representative Xavier Becerra of California said that the federal government may be too far removed from pressing issues on the local level to play the biggest role in enacting change.
"This is not for the federal government to do. The local government, our state districts are the most important. The federal government has to play its part: we have to help provide the resources to make schools work right for all our kids," Becerra said.