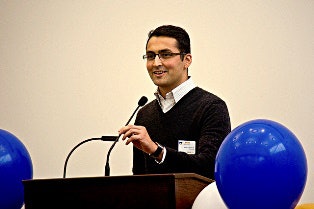 When Scott Vignos addressed Rio Hondo College students last fall, their attentiveness to his speech about how to plan and prepare for law school differed sharply from the attitudes elsewhere in which ambivalent young people texted and amused themselves on smartphones while he was trying to recruit them.
Furthermore, Vignos's trip to Rio Hondo, a Hispanic-serving institution (HSI) southeast of Los Angeles, was more than just another stop on the recruiting circuit.
Instead, his visit was part of a broad effort to encourage and steer more community college graduates in California — especially minorities and other underrepresented populations — into law school.
Known as "Pathway to Law School," the new partnership targets students at 24 community colleges such as Rio Hondo, which is about 70 percent Hispanic and 90 percent minority, to try improving racial diversity in the legal profession.
Six law schools statewide are providing mentoring and financial aid counseling and help preparing for Law School Admission Test (LSAT) exams and waivers on application fees for community college students who subsequently earn a bachelor's degree at the respective undergraduate institutions where the law schools are housed.
"Community college graduates often have very strong academic credentials and sometimes, the highest grade point averages," says Kristen Mercado, assistant dean of admission and financial aid at the University of California, Davis law school, one of the six participants in the Pathway pipeline initiative. "They have a laser-like focus and a serious mindset. Once they decide to transfer to a four-year institution, they're goal-directed and determined to move into strong programs."
Mercado based her comments on her law school's 13-year-old pipeline program for college juniors and seniors from underrepresented constituencies, one-third of who are community college graduates.
Because the UC Davis law school has repeatedly cultivated community college alumni into enrolled law students, Mercado predicts the new Pathway initiative, which launched last May and began its activities in the fall semester, could successfully increase diversity among lawyers. This academic year, minorities comprise about 34 percent of UC Davis law enrollment, which certainly beats the 20 percent among members of the State Bar of California.
But people of color make up 60 percent of the state's population, a proportion that is similar among the 2 million-plus students enrolled annually at California's 112 community colleges.
Sponsored by the California state bar's Council on Access and Fairness, a diversity think tank of sorts, the Pathway partnership outlines the opportunities and assistance the six law schools will provide to community colleges. The partnership agreement aligns the academic criteria so that transfer credits for undergraduate institutions are more seamless. The required community college courses include English composition, U.S. government, and argumentation and debate.
This doesn't guarantee that the road to law school is easy, however.
Law school admission standards haven't changed. And, about half of all Rio Hondo students must take remedial math or English, says Vicenta Arrizon Maffris, coordinator of the Pathway initiative there.
When Arrizon Maffris taught a College and Life Success course last fall to students interested in Pathway — the course focuses on personal responsibility, critical thinking, self-efficacy and interpersonal communication — most of the students' knowledge about lawyers was limited to dramatized trial scenes on TV shows. Nor were her students, many of whom are first in their families to pursue higher education, aware that a bachelor's degree is required in order to apply to law school.
But the students had no shortage of enthusiasm, curiosity and willingness to work hard, Arrizon Maffris says, adding that many of them remain on campus as late as possible for Pathway-related events and discussions before hurrying to catch the last bus to commute home. When Vignos, the associate director of admission and outreach at UC Davis law school, visited her class, the students were "impressed that he traveled so far to talk to them," Arrizon Maffris says. "This made them feel special."
Although not a community college alumnus himself, Vignos's family background resonated with the students. In 1970, his mother immigrated with her family from India, bearing only four suitcases and a few hundred dollars.
In addition to encouraging the Rio Hondo students to support each other in their college pursuits, Vignos elaborated on specialties in the legal profession that are perhaps lesser known than criminal prosecution and defense, such as child welfare and advocacy, education law and legislation evaluation.
Vignos considers the Rio Hondo visit a highlight among his recruitment travels last semester because "the students were so dialed-in, their classroom was packed and they were a pleasure to spend time with."
In December, Arrizon Maffris organized another standing-room-only Pathway event by bringing onto campus a group of lawyers that included, but weren't limited to, an immigration specialist, a public defender and an environmental law expert.
Arrizon Maffris was taken aback that 53 students showed up for the lawyers' panel discussion because the four o'clock event occurred at a time when day students normally leave to catch their buses home and before the night students have come to campus.
That afternoon, the lawyers shared why they chose the profession and explained the kind of work they do. The panel was moderated by a Rio Hondo alumna who was a parent and Whittier Law School graduate.
The question-and-answer portion of the discussion lasted so long that Arrizon Maffris had to depart in order to teach her regularly scheduled class, leaving the moderator in charge.
"These kinds of events empower them," Arrizon Maffris says of the students. "They can better understand that what they do academically matters a lot."
Despite the long academic road ahead, the Rio Hondo students have another reason to believe there is ample space for them in the legal profession — a 2011 survey of California state bar members indicated that 48 percent were age 55 or older.
Rio Hondo and the other 23 community colleges were chosen for the Pathway partnership based on their success in transferring low-income and minority students to four-year institutions. Educators anticipate the first wave of Pathway students will enter law school as early as 2017.
The five other law schools participating in the Pathway program are those at the University of Southern California, Santa Clara University, the University of San Francisco, Loyola Marymount University and the University of California, Irvine.