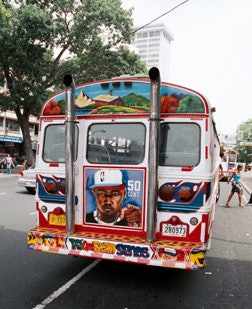 When Latin American history professor Peter Szok first rode one of the "red devil" buses in Panama City as a graduate student in the early 1990s, he soon realized that the experience would be much more than just a regular bus trip.
"It wasn't just your average bus ride where you get on, give your money to the driver and mind your business," Szok recalled. "You were kind of enveloped in something broader."
Indeed, from the inside out, the red devils — known in Panama as diablos rojos — offered riders what Szok describes as an "enveloping, multi-sensory" experience.
Bold and colorful artwork that featured pop culture icons or comic book characters emblazoned the exteriors of the buses, as did idyllic beach, mountain or countryside scenes. The insides of the buses — often discarded American school buses from Florida — could be boisterous and festive.
"The designs and pictures create a public spectacle capable of astonishing and drawing in passengers, especially when combined with thumping reggae, horns, screeching breaks and the rhythmic jingles of the pavo or assistant shouting out the destination," Szok once wrote in an article published in Anthurium: A Caribbean Studies Journal.
The owners of the buses had good reason to provide riders with a memorable experience. The city's bus system was privately operated and made up of dozens of small operators who competed for customers.
The competition wasn't just limited to the bus owners. It also spawned a culture of one-upmanship among painters, who could command upwards of $2,000 per painting.
"The painters were kind of like bluesmen or hip-hop stars trying to out-duel each other in their virtuosity," Szok said. "There was a lot of respect always between them but there was also a lot of rivalry.
"That was also evident among their followers. All these people who like Andrés Salazar, Óscar Melgar, other painters," he said, mentioning two of Panama's prominent bus painters by name, "there was a sense of loyalty to that painter."
Today, as result of a wave of various reforms, Panama City's red devils are mostly a thing of the past, replaced by a Metro Bus system with fleets of plain vehicles not unlike those you might see in some other metropolis.
During a recent trip Szok took to Panama over spring break, there was hardly a red devil in sight.
"It's unfortunate [that] it's been really hurt by those reforms and it's kind of been like a broader effort to almost gentrify the city and make it more appealing to what is thought of as a market of international tourism and to make it more Miami-like," Szok said. "And something was really lost. There's such a creative tradition of popular art."
Szok said he felt a sense of grief the first time he rode one of the new buses.
"It was very painful the first time I got on one of the buses," Szok said. "I was hurting inside."
At the same time, any grief over the loss of a national artistic treasure pales in comparison to the well-known history of accidents associated with the red devils, which lived up to their name in more ways than one as they zig-zagged through traffic, steered by operators with driving records so poor that many of them worried they could not get hired in the new bus system.
"They could be very dangerous," Szok conceded. "There were a lot of accidents. That was part of the reason behind their removal."
Still, Szok thinks the red devils could have been salvaged as officials worked to make the bus system more efficient and safe.
"You don't throw out the baby with the bathwater," Szok said. "There was a lot there that was also very positive."
Even though Panama's red devils are mostly memories of a bygone era, their legacy lives on in a course that Szok teaches at Texas Christian University, where he is a member of the faculty in the Department of History and Geography.
"The course is not all about bus art," Szok explained. "It's a course about Central American history focusing on Panama and using the art as a way of kind of illuminating themes, especially surrounding ethnicity."
The course — on modern Central America from 1821 to the present — focuses on Panama and uses a book authored by Szok titled Wolf Tracks: Popular Art and Re-Africanization in Twentieth-Century Panama as a textbook.
"The book helps us address conceptions of ethnicity and how they have evolved over time, including the traditional denial of an African presence in Panama and its resurgence from the mid-20th century forward in music, popular art and other African diasporic art forms," Szok explained.
"Blackness hasn't occupied a central part of Panamanian identity," Szok said. "The trajectory of popular music kind of helps you illuminate those types of things and the rising sense of Blackness in Panama. I call it a process of re-Africanization. It's not about going back to Africa but recognizing Black culture, Afro-diaspora culture in Panama."
That includes what he referred to as a "rising consciousness of slavery, West Indian immigration and their historical legacies."
Szok said future trips to Panama are in the works for students at TCU as part of the university's Global Academy initiative and its engagement with the City of Knowledge. The City of Knowledge is a campus on a former U.S. military base near Panama City that houses what one official website refers to as "an unusual concentration of innovative firms, international organizations focused on development, as well as academic and research institutions."
There are plans to connect students with internships and the like in Panama.
While chances of the students experiencing a red devil ride have grown increasingly slim, Szok still holds out hope that they might be able to do so before the historic buses disappear forever.
"It would be really interesting to connect them to it," Szok said.
Jamaal Abdul-Alim can be reached at dcwriter360@yahoo.com. Or follow him on Twitter @dcwriter360.