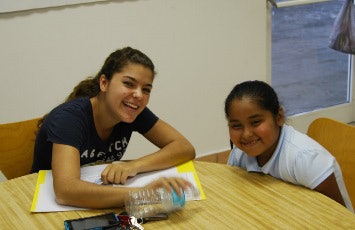 After years of teaching developmental reading, Yanely Cordero had grown increasingly determined to help the students she taught part-time at the Miami-Dade College Homestead campus overcome the poor K-12 preparation that often undermined their self-confidence and left them struggling to move on to higher-level courses.
"For years, I thought, 'How can I help them? What can I really do that is relevant to them?" Cordero said of her students.
Fortunately, the idea occurred to Cordero that granting college students the responsibility as mentors to help school children with basic reading and writing skills might in turn stimulate the collegians to improve their classroom performance. She reasoned that if her college students had "mentoring roles where they're actually [working with lesser-skilled students to] guide them and interact with them while demonstrating the reading skills that I'm teaching …That [mentoring experience] might get the results that I want" from them.
Cordero's epiphany led her to launch the Pages for All Ages literacy project in spring 2012 not long after she began teaching full-time at Miami-Dade College (MDC) Homestead. Working initially with homeless elementary school children, she developed a mentor's curriculum that drew some 15 students into helping children improve their reading skills and write personalized books about their lives and interests.
The project so enthralled MDC officials that in fall 2012 Cordero earned recognition through the MDC Service Learning Awards. Her award-winning efforts inspired MDC psychology professor Jessyca Perez to join Pages for All Ages, and the two professors expanded the project to include students from Perez's psychology and student life skills classes.
"I was really impressed [especially with her being] a first-year [full-time] faculty member at the time… . When I saw her project 'Pages for All Ages' I noticed that it was in a baby stage and I said 'We can really team up … [and] take this to the next level," Perez said.
Perez was instrumental in enlisting EnFamilia, a Homestead, Fla.-based nonprofit that coordinates education programs for migrant farm workers and their families in south Dade County, to partner with Pages for All Ages. Since 2013, MDC students have largely worked with elementary children attending the after school program in the Everglades Community Association in Homestead. The children live within a community that houses migrant farm workers and their families.
"Since I had contacts in the community with the migrant camps and EnFamilia, I figured this would be a great partnership," Perez said. "And we were able to get more students from our classes and we were able to connect with the community so working together really did push the program and expand it."
Since its inception, the project has served roughly 300 students, or mentees, according to MDC. Participation each semester has ranged from 20 to more than 40 MDC students volunteering to work one-on-one with elementary school mentees once a week in Homestead. Over a nine-week period during semesters, mentors coach and tutor their mentees through completion of a book. Mentees are each provided a book of 28 blank pages on which they write content and illustrate with printed pictures, Cordero explained.
The mentees attain "a wonderful sense of accomplishment when they finish their books and we organize an event at which their families attend and celebrate" the feat, she added.
For mentors, participating in the Pages for All Ages project can count toward service-learning requirements that MDC faculty members often incorporate in their courses. At MDC, service-learning "combines course content with organized community service experiences at local nonprofit organizations," according to the college.
Pages for All Ages was developed as a service-learning opportunity, which targets "community-identified needs while helping students meet academic, social and civic learning goals." Perez, who is a service learning faculty coordinator at MDC Homestead, requires that students in her classes fulfill a service-learning requirement, and Pages for All Ages is just one activity among a number of options they can choose. Cordero offers students the option of participating in the project to count toward their final grade.
"That means two to four students from the five classes that I teach will opt to join Pages for All Ages over a semester," Cordero said.
Cordero and Perez are looking into expanding the project to juvenile detention centers and senior citizen residential facilities. Although mentees have largely been elementary school children, the Pages for All Ages curriculum is meant to address the literacy needs of individuals regardless of their age, Cordero says.
Dr. Randall Kaufman, the humanities and social sciences chair in the School of Arts and Sciences at MDC Homestead, said the work of Cordero and Perez in maintaining Pages for All Ages addresses "a fundamental need down here" in south Dade County.
"We have a rural community, an agricultural community, and a migrant community. We have some of the least prepared students coming into the [MDC] system…so the need to help them is great," he explained, noting that the MDC Homestead campus enrolls more than 12,000 students.
Overall, MDC, which has seven campuses and 165,000 students, is the largest higher education institution in the U.S.