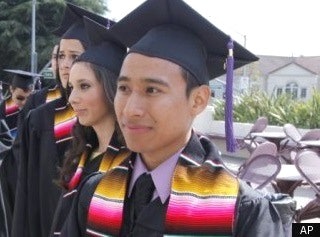 The number of colleges and universities identified as Hispanic-Serving Institutions (HSIs) rose 7 percent in the 2014-15 academic year as compared to the previous year, according to a recently released annual analysis conducted by Excelencia in Education.
The Washington, D.C.-based organization, which focuses on accelerating higher education success for Latino students, found that HSIs enrolled 62 percent of all Latino undergraduates in the U.S. and that these institutions are concentrated regionally as more than two-thirds of all HSIs are in California, Texas or Puerto Rico.
In 1994, the Higher Education Act defined an HSI as accredited and degree-granting public or private nonprofit institutions of higher education with 25 percent or more total undergraduate Hispanic full-time equivalent (FTE) student enrollment.
"Accelerating Latino student success requires better understanding the institutions where students are choosing to enroll," said Excelencia President Sarita Brown, whose group has been statistically tracking HSIs and providing analysis since 2004. "(This) release is part of an unprecedented body of data on HSIs we continue to analyze in conjunction with institutional practices, policies and leadership that serve students' academic aspirations and increase degree completion."
Among the other findings:
435 ― the number of HSIs currently in the United States and Puerto Rico. Twenty-seven institutions have become HSIs since 2013-14.
310 ― the number of Emerging HSIs, defined by Excelencia in Education as colleges that enroll between 15 and 24 percent undergraduate equivalent Hispanic students.
68 ― the percentage of HSIs that are public institutions. Overall, about 50 percent are two-year institutions and 50 percent are four-year institutions.
18 ― the number of states with at least one HSI.
Details available through Excelencia in Education's HSI Center for Policy & Practice.