We are coming up to a major game of chicken over the Deferred Action for Childhood Arrivals.
Led by Texas and nine other states, critics of DACA have told the Trump administration to end it or defend it in court.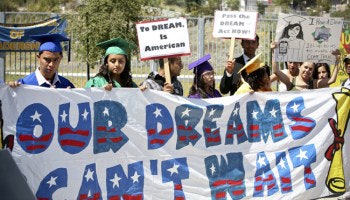 Donald Trump has until Sept. 5 to decide.
There are nearly 790,000 reasons to keep it alive.
That's how many recipients under age 30, often referred to as "Dreamers," have been allowed to live, work and attend college in the U.S.
They don't get citizenship or legal status, but they can be free of the anxiety of possible deportation—and they can become real contributors to American society.
These should be the people Trump would prefer as immigrants to the U.S., given his talk of desiring a merit-based immigration. Is there anything better than young people who—through no fault of their own–came to the U.S. as children, who then decided to attain an education and build their lives in this country?
That's as American as it gets.
But Texas Attorney General Ken Paxton, along with nine other state attorneys general, are standing their ground.
Paxton has said Trump doesn't have to end DACA immediately, or start deporting students. But that's of little solace.
The president can save DACA by following his strong urge to support it, as he did during the campaign, when he indicated some sympathy for the program and the Dreamers.
But the recent history doesn't look good.
In recent weeks, the president has relied on wedge politics to solidify his mostly white, nationalistic base of support.
Trump's public statements on Charlottesville have gone from bad, to good, then back to sour again.
Then just last week to "clarify" his position, Trump went before a Phoenix "campaign" style rally and misstated his position without shame.
The president's sense of truth and moral clarity have suffered.
Just for good measure, as the hurricane was about to devastate Houston and South Texas on Friday, Trump pardoned Arizona Sheriff Joe Arpaio, who had been convicted of unlawfully racially profiling Latinos.
Add to that the Friday formalization of Trump's transgender ban, and it seems the president has done all he can the last three weeks to alienate Latinos, African Americans, Jews, and the LGBTQ communities.
The recent history does not look good.
He doesn't have to do more for his base.
Besides, consistency isn't a Trump virtue.
Now is the time to indicate the sympathy he's said he's had for the Dreamers during the campaign.
He must back them up and keep the program open to new applicants.
If he doesn't, it will be up to Congress to pass legislation so that the dream for the nearly 790,000 undocumented students in DACA does not die.
Emil Guillermo is a journalist and commentator, who writes for the civil rights group http://www.aaldef.org/blog