WASHINGTON – California Rep. Nanette Barragán remembers her immigrant parents telling her, "Doctor or lawyer – that's the only way you're going to get out of poverty."
She set out for UCLA and then graduated from the USC Gould School of Law.
"We never really talked about how do we pay for it, how I would get there," she said. "But there are a lot of struggles when you come from a household like mine."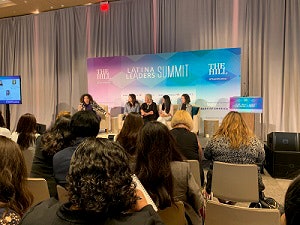 Barragán shared the memory Wednesday with a packed hotel ballroom audience at the third annual Latina Leaders Summit. The event, hosted by The Hill, brought women together to discuss how policymakers can level the playing field for Latinas in politics, education and the workforce.
This year's headliners included Barragán, California Rep. Grace F. Napolitano and Rep. Jennifer González-Colón of Puerto Rico in conversation with National Public Radio host Lulu Garcia-Navarro.
Last year, a record number of Latinx candidates were elected to Congress – 38 in total – adding a new dimension to the annual gathering.
"Our summit this morning cannot be more timely," said Niharika Acharya, executive director of events at The Hill. "In a moment when divisive rhetoric is dominating the political discourse in Washington, we look forward to convening a thoughtful forum on leadership and efforts to have our institutions reflect the diversity of the American people."
Panel discussions ranged from Latina entrepreneurship to Trump administration immigration policies to the influx of Hispanic women in Congress, with several speakers touching on issues in higher education.
Barragán, for example, described the weight of her debt coming out of law school and expressed her concern about the student loan debt crisis on behalf of the Congressional Hispanic Caucus, where she serves as second-vice chair.
On a different panel, Virginia delegate Hala Ayala mentioned her experience as the first college graduate in her family.
"I encourage all of you to run for office," she told young women in the audience. "We deserve a seat at the table, and for too long, women have been on the menu."
A panel titled "Breaking the STEM Barrier" addressed higher education head-on, focusing on Latina underrepresentation in STEM fields.
Dr. Cecelia Aragon – who directs the Human-Centered Data Science Lab at the University of Washington, Seattle – was the first Latina full professor in the college of engineering at the school. She's one of only 10 U.S.-born Latina engineering professors in the United States, and only three of them are full professors, she said.
The summit audience collectively guffawed when Aragon recalled a middle school teacher telling her, "Why are you working so hard in math? You should be getting a boyfriend."
Aragon knows what it's like to be held back by "internal racism and sexism," she said. "They hand it to you young, and you digest it for life … That set me up to dismiss myself for years."
As a result, there are fewer women in tech now than there were in the 1980s, let alone women of color, Josie Goytisolo said. She's the founder and CEO of CODeLLA, which teaches coding to Latinas in elementary and middle school. She works with children so Latinas will be prepared to take on new jobs in the tech industry when they graduate from college.
"We're at a very important time globally for civilization," Goytisolo added. "So many careers exist today that didn't exist five years ago."
Even though Latinas in tech are "a really small percentage," Viviana Costa, the executive director of the Hispanic IT Executive Council, is optimistic about their future. She said she's inspired when she sees them come together at council events.
"When someone says to me, 'Wow, I didn't realize there were so many Latinos in technology who look like me,' that gives me hope," Costa said.
Nina Roque, executive director of the National Women's Business Council, added that research on millennial women entrepreneurs indicates that they're the most educated and diverse generation with the most STEM degrees to date.
Roque was a first-generation college student and the first law school graduate in her family. She is "encouraged by those numbers," she said, and can't wait to see the data for Generation Z.
She hopes Latinas won't feel daunted to explore a career in STEM.
"I myself can barely turn on a computer," she said, laughing. "If you had told me a year ago I would be on a panel about women in STEM, I would be shocked."
Aragon similarly felt that the next generation would bring positive change for Latinas in STEM – and the field as a whole.
"I'm privileged to work with amazing students," she said. "It's the young people I talk with every day who give me hope … These young people are going to be the ones who come up with the next creative use of technology."
Sara Weissman can be reached at [email protected].