SAN DIEGO—The state of Hispanic Serving Institutions is strong, says the president of the Hispanic Association of Colleges and Universities (HACU), who kicked off the organization's 36th annual conference this weekend.
It's the first in-person gathering of HACU since 2019 and more than 2,500 students, faculty, staff, and policymakers gathered here to share best practices and to strategize on how best to strengthen the success of Latino students and Hispanic Serving Institutions (HSIs) amid the COVID-19 pandemic that disrupted higher education over the past few years.
"There was a significant drop in enrollment among many HSIs," said Dr. Antonio R. Flores, who has led the association for the last 26 years. "We are now in a recovery mode. I would hope in the next 2-3 years, we will get back to where we were performing before the pandemic."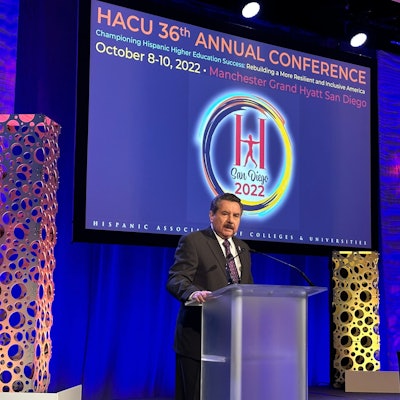 Still, the challenges remain.
In his opening remarks to kick off the conference, Flores noted that federal funding for HSIs remain remarkably low, despite their ongoing growth over the past decade.
"HSIs are all over the nation, and ultimately soon will be in states where they are not now," he said, adding that Idaho, for example, will soon debut its first HSI, a clear signal that the Latino population is dramatically increasing in states that have traditionally been majority white. "The trend of the nation is clearly that Latino enrollment will not only recover in the next few years but move further out."
Like other advocacy groups, HACU has been lobbying Congress for funding, all the while forging private partnerships with organizations like Google, Educational Testing Service (ETS), Southwest Airlines and CapitalOne to place college students into promising internships that can lead to budding careers.
The association has committed to investing in its existing programs such as its HACU Leadership Academy that started three years ago to train professionals to advance to the top levels of collegiate administration, particularly at HSIs. The program has yielded positive results and has helped several fellows advance to college presidencies.
"We truly are committed to leadership from pre-collegiate years to the top," said Flores, who added that HACU's mission has not waned from its inception: "to provide high-quality programs and services that meet the evolving needs of those we serve."
This year's conference theme, "Championing Hispanic Higher Education Success," features more than 50 workshops with a particular focus on how to strengthen Latinos in the STEM fields.
HACU also has plans to launch DoctoreX, a new initiative focused on preparing and training a new generation of Hispanic students to become medical doctors.
"We're only 5 percent of the doctors in the nation," said Flores, who added that in addition to increasing the overall representation of Hispanics in the medical field, the initiative will also work to reduce the cost of attending medical school while preparing bilingual, bicultural physicians to be serve diverse patients.
On the opening day of the conference, Dr. Raúl Cárdenas, the founding president of South Mountain Community College in Phoenix, was inducted into the HACU Hall of Champions alongside U.S. Senator Robert Menendez of New Jersey.
Take a listen to our recent "In the Margins Podcast" featuring a conversation with HACU's president, Dr. Antonio R. Flores.