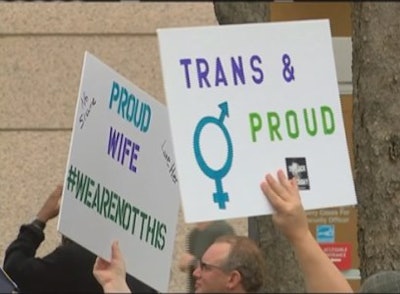 When Warren Radebe ­first arrived at Johnson C. Smith University (JCSU) as a freshman in 2011, there was no LGBTQ movement on campus. Yet Radebe, who grew up in Alexandra Township, South Africa, credits the university with giving him the space to come to terms with his identity as a gay man.
"South Africa has included LGBTQI [protections] into the ordinances of its constitution," Radebe tells Diverse in a phone interview. "But I'm from a Zulu tribe family, and to some extent there have been some struggles for me to be myself with family. However, coming to the United States, there was this welcoming environment that could actually allow me to be myself."
Faculty at JCSU connected him with the counseling center on campus, and from there, he immersed himself in LGBTQ activism. Radebe co-founded S.A.F.E. Pride, which he says had grown to a membership of 400 students by the end of his senior year. He also campaigned for the creation of safe spaces on campus.
Creating a dynamic LGBTQ movement was not all smooth sailing, Radebe acknowledges. "You must understand that HBCUs have this problem, where [there] are a lot of Black conservative people from different backgrounds who are not welcoming to the idea of LGBTQ movements on campus," Radebe says. "And there was nothing, there was no LGBTQI movement on campus."
HBCUs, however, stand to bene­fit and attract more students as they become more inclusive of the LGBTQ community, Radebe argues.
Layla Bluefort graduated from JCSU with a bachelor's degree in 2011 and now works at the university as an adjunct professor, mental health instructor and director of a summer camp program for foster care youth. She says that LGBTQ students are an increasingly visible presence on campus.
"You see that students are feeling more comfortable," she says in a phone interview. "I'm not sure if it's just a shift in it being more accepted, but our students I do think are for the most part comfortable if they are part of that population."
House Bill 2
As Johnson C. Smith makes strides in LGBTQ inclusion, its home state of North Carolina has generated substantial national controversy for a bill passed in March that critics say discriminates against transgender individuals.
HB2 (House Bill 2) limits protections for the LGBTQ community and prohibits transgender individuals from using bathrooms that do not correspond with their biological sex, among other measures.
Businesses and organizations reacted swiftly to the passage of HB2, echoing corporate condemnation of a religious freedom law that passed in Indiana last year. PayPal, for one, said that it would abandon a plan to expand its global operations center to Charlotte, a move that was expected to employ 400 North Carolinians. The NBA also said that it would consider moving next season's All-Star Game out of the city.
The law also has particular implications for the University of North Carolina. "Initially, there was a lot of concern about what the impact of HB2 was going to be, because we have a nondiscrimination statement that includes provisions against discrimination on the basis of sexual orientation, gender identity and gender expression, and so initially there was a concern about whether HB2 was going to change our non-discrimination statement," says Dr. Terri Phoenix, director of the LGBTQ Center at UNC-Chapel Hill.
Although UNC has not changed its antidiscrimination policies, UNC President Margaret Spellings issued a memorandum in April to all 17 UNC system chancellors instructing them to comply with the bathroom provision of HB2.
"We were disappointed by that, to say the least," Phoenix says.
That move put the university system at odds with the U.S. Department of Justice (DOJ), which filed a lawsuit including both the state of North Carolina and UNC for the bathroom provision.
The university, which receives federal funding, must comply with Title IX, which protects individuals from discrimination on the basis of sex. However, UNC has not required that the new bathroom provision be enforced at any of the campuses.
In legal filings submitted in late May, Spellings writes, "I have repeatedly cautioned the constituent institutions that the Act confers no enforcement authority on the University or any other entity."
How the suit filed by the DOJ is expected to play out is still not clear. "As a legal matter, federal law should supersede state law, there's no question," says Dr. Maxine Eichner, Reef C. Ivey II Professor of Law at the UNC School of Law.
While UNC's legal position is "to some extent nebulous," Eichner said, the political situation is more complicated.
"It doesn't seem unreasonable in my view for UNC to do what it's doing in terms of saying, 'We want to be certain that this is what federal law,' and wait for a court to resolve that. If a court does resolve that, there is no question that that law needs to go, properly over any contradictory provisions of state law," Eichner continues. "The political question for the university I think is significantly more difficult. They are funded by the General Assembly and the General Assembly has clearly been willing to put its weight behind enforcing its own views."
While HB2's reach does not extend to private schools, its impact is still felt, says Dr. Janie Long, associate vice provost for undergraduate education at Duke University.
"Having [HB2] happen does not make students feel welcome in North Carolina," Long tells Diverse in a phone interview. "No matter how welcoming the university is, it's still North Carolina that they're coming to, every time they come back to campus."
Long has particular knowledge on the subject, as she served as director of Duke's Center for Sexual and Gender Diversity between 2006 and 2014.
Critiques and roadblocks
Duke, along with Wake Forest University, Elon University, and other private colleges and universities in North Carolina, was quick to condemn the bill.
The university has become a much more inclusive place for LGBTQ students since she first arrived on campus in 2006, Long says. Back then, few students felt comfortable enough with being associated with the LGBTQ community to visit the center on a regular basis, she asserts.
When Long suggested holding a celebration of National Coming Out Day in the main plaza on campus, "The students looked at me like maybe I should be burned at the stake," Long laughs. "They let me know that that would not be welcomed. It was a very big awakening for me, in terms of what the campus felt like for those students."
Although National Coming Out Day was celebrated in the quiet environs of the center that year, by the following year, students agreed to hold a more visible celebration, Long says.
Since then, the visibility of the LGBTQ community on campus has increased. The center moved from a basement space to the main student center. Yet there is still a cyclical nature to LGBTQ progress, Long says, and the push to keep fighting for recognition has to be renewed with every new freshman class.
"People are more comfortable. Our culture has progressed, but there is still a long way to go," Long says. "I think on college campuses, we have to keep in mind that, every year, a quarter of your undergraduate student body comes in new. They're coming from all over the world, from all kinds of families, all kinds of backgrounds, and they're bringing the bias that they have with them."
At Johnson C. Smith, HB2 has had unanticipated consequences, Bluefort says, even though it is a private university and therefore not obligated to meet the requirements of HB2. The summer camp that Bluefort directs brings 10th and 11th graders in foster care to JSCU from all over the country, but this year, two students will not be able to attend. They live in Ohio, where some counties and cities have banned government-funded travel to North Carolina in response to HB2.
"Unless they can find some other way to get her here, [they are] not able to come as a result of HB2," Bluefort says.
Emiene Wright, a spokesperson for JSCU, says in an email that the university currently provides family and gender-neutral bathrooms on campus and is committed to the full inclusion of all students. She adds that the university is currently reviewing best practices related to gender-neutral restrooms and locker rooms.
Catherine Morris can be reached at [email protected].