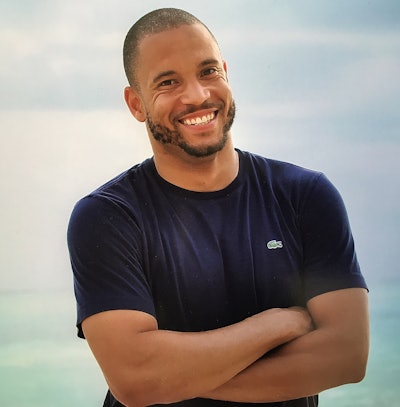 If you ask Dr. Ravi K. Perry how he defines himself, he is quick to point out that he's a scholar-activist.
"All of my work has been aligned with my goal of trying to impact the lived conditions of marginalized communities," says Perry, chair and associate professor of the Department of Political Science at Virginia Commonwealth University.
At 35, Perry is likely one of the youngest department chairs at a Research 1 university, where he provides leadership for a department that includes 17 full-time faculty and more than 700 student majors, a third of whom are students of color – and many more who hail from first-generation and low-income families.
Perry grew up in a family of academicians. His father, Dr. Robert Perry, is viewed as a pioneer in the field of ethnic studies and was one of the founders of the National Association for Ethnic Studies, the nonprofit that his son would lead for two years.
He remembers Harry Belafonte and authors Maya Angelou and James Baldwin passing through his home in Toledo, Oh., to visit with his father, who spent nearly three decades as director and chair of ethnic studies at Bowling Green State University. His mother, a retired public school teacher, also taught in the Africana Studies Department at the University of Toledo.
For Perry, who is openly gay, the role of academic and activist is one and the same. Several years ago, he surprised some of his contemporaries when he left a tenure-track faculty position at Clark University in Worcester, Ma., and moved with his husband to the conservative town of Starkville, Ms., to begin a professorship at Mississippi State University (MSU).
During his tenure at MSU, Perry became a visible presence on campus. He served as the faculty adviser to LGBTQ students and was able to "help the community of Starkville move forward on LGBT initiatives" while churning out several scholarly works, including a book that was co-authored with his mother, Dr. D. LaRouth Perry, about the fight to integrate Central High School in Little Rock, Ar., in 1957.
Perry's mother, who now has Alzheimer's, grew up in Little Rock and was friends with the youngsters who went on to integrate the high school as The Little Rock Nine.
The Perrys' book, The Little Rock Crisis: What Desegregation Politics Says About Us, is about the unknown African-Americans who lived through the showdown at the high school and remained in Little Rock throughout the crisis.
From an early age, Perry was drawn to politics and activism. He was among a group of supporters who helped elect the first Black mayor of Toledo — Jack Ford — to office in 2001.
While a student at the University of Michigan, Perry briefly contemplated a career in law but was quickly dissuaded from going to law school by his professor, the late Dr. Hanes Walton Jr. Walton urged him to instead become a professor and to study politics.
"I have a career and hundreds of people have a career studying Black politics because of him," says Perry, who enrolled in the Ph.D. program in political science at Brown University. His dissertation — which he eventually turned into his first book — examined the trajectory of Black politicians, such as Ford, who won office with a majority of their support coming from White voters. "We knew a lot about Black mayors in Black cities, but we knew little about Black mayors in cities where the majority are White," says Perry. "How do we gauge their efforts?"
He was principally concerned with what Black politicians, operating in cities where they won with the majority of White voters, were doing for African-Americans who lived in those cities.
Now, he is working on a book about gay and lesbian elected officials.
Fellow political scientist Dr. Khalilah Brown-Dean, an associate professor of political science at Quinnipiac University, says that Perry's scholarship is useful in this moment in history.
"Ravi Perry is a consummate scholar-activist. His scholarship challenges us to consider the diverse contours of American politics with a keen eye toward the practical challenges facing underrepresented communities," says Brown-Dean. Perry's work, she adds, highlights "the continuing struggle to confront issues of equity, inclusion and accountability. Ravi's work is on the cutting edge of those questions. He's a force."
Dr. Ravi K. Perry

Title: Chair and Associate Professor, Department of Political Science, Virginia Commonwealth University
Tenured: Yes
Education: B.A., University of Michigan; M.A., Brown University; Ph.D., Brown University
Age: 35
Career mentors: Hanes Walton Jr. (deceased), University of Michigan; Marion Orr, Brown University; K.C. Morrison, University of Delaware; Wendy Schiller, Brown University; Darrell West, Brookings Institution; James Morone, Brown University
Words of wisdom/advice for new faculty members: Be productive; be yourself; express your passions; give back to your community.