With college students still at a high risk of acquiring HIV, the Human Rights Campaign (HRC) Foundation has released a comprehensive guide to HIV prevention, treatment and care on college and university campuses.
The HRC is one of the country's leaders in addressing and advocating for LGBTQ issues. The organization has long mobilized college students and helped train young advocates, but this week it released its first guide for college administrators, staff and students outlining vital steps that can be taken to improve student awareness, health and care.
The guide's release coincided with National Youth HIV and AIDS Awareness Day.
Although the overall rate for HIV infection in the U.S. has declined, people between the ages of 14 and 24 continue to be at high risk. Approximately 80 percent of new diagnoses in this age group come from college-age individuals, 20 to 24. According to the Centers for Disease Control, 51 percent of young people living with HIV do not know their status.
"We know there are special risk factors for youth that are on college campuses and also a lack of resources," said Ashland Johnson, HRC director of public education and research. "We're trying to build a long-term campaign where we target administrators and see what the students need in order to effect change in this population."
Research was done on the risk factors and why HIV rates remain high among this population. There was an examination of how colleges and universities are addressing education, testing, dissemination of information and treatment. The idea was to assemble a resource for administrators so they can develop and enact best practices.
"Not just the awareness, but what they can do tomorrow, next month or next semester with the resources that they have," said Johnson. "We've made a lot of advances when it comes to HIV prevention and awareness, but with this very vulnerable group, we're not seeing the advances we need to see.
"There are all these great resources out there," she added, "but yet college youth are not assessing their risk in the right way."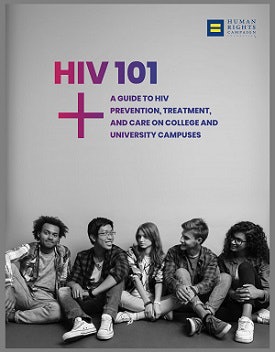 The guide puts forth various strategies. With high concern about budgetary issues, there are suggestions of ways that colleges and universities can partner with local organizations that provide needed services.
The guide's five main takeaways are:
· Evaluate the institution's current student sexual health programs, practices and policies.
· Make inclusive sexual health education a priority.
· Make sure campus healthcare providers receive up-to-date information and training from accredited public health organizations.
· Partner with and support student-led initiatives to promote HIV awareness and sexual health education.
· Partner with and support community initiatives.
To effectively distribute the guide, HRC has identified administrator groups and contacted them via email to inform them about the guide which is available in print and digital form.
According to experts, students arrive at college with widely varying degrees of sex education. Some are not equipped with the information to take on adult responsibility and decision-making. Johnson said there are few, if any, advances on risk assessment.
One suggestion in the guide is to provide first-year students an online course on sexual health with specific information about HIV and sexually transmitted diseases before they arrive on campus. Making such programming a part of student orientation was another recommendation.
While the guide advocates HIV-awareness programs within campus LGBTQ spaces as well as partnering with community LGBTQ programs, the guide is not LGBTQ-specific.
"We don't want to stigmatize one group because, in doing so, that means all the other students who are at risk aren't getting treatment," said Johnson. "We want to make it known that HIV is not an LGBT issue. It's a campus youth issue, and campus administrators need to engage more. They have power with using resources."
The next phase of the project is to conduct student focus groups.
HRC said that it will issue an HBCU-specific edition of the guide in July, when HRC holds an HBCU presidents' meeting.
"We know that Black youth are disproportionately affected when it comes to HIV rates, and a lot of the HBCUs are located in places that already have high HIV rates," said Johnson. "We have a little bit of a breakout in the main guide, but we're seeing there are unique needs for HBCUs that we want to target with a separate guide."