The importance of making an impact on higher education and creating pipelines for diverse talent were salient topics at the TIAA Institute Women's Leadership Forum held on Thursday in New York City.
Women of color will often face obstacles at institutions of higher education, so those who succeed must be strategic, create opportunities for others and identify young people to be developed into future leaders, said several speakers at the forum, who added that women professors and administrators of color often become magnets for female students of color.
Mindful that such informal counseling is largely overlooked in the tenure process, one participant said she very deliberately sought to change the tenure portfolio at her university. To achieve that change, she had to discuss it with others, find advocates and build consensus through informal groups.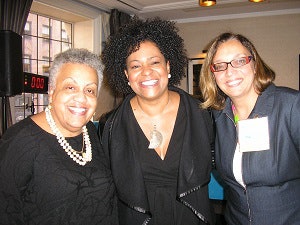 Participants noted that in a college or university setting, it is important to engage faculty leadership, such as the faculty senate, adding that it is also important to listen to students and carefully note student outcomes, so as to take informed action on big issues.
"[It was] was really a powerful experience to sit with colleagues and hear about their leadership journeys and how we have to understand what the systems are that create power," said Dr. Belinda S. Miles, president of Westchester Community College. "That helps us to leverage our roles on behalf of the institution and create new opportunities for not only our students, but for our employees and those who are coming up in the administrative leadership pipeline."
The transition from faculty to administration and leadership means a commitment to learning and accepting the demands of a leadership role, particularly that of college or university president. Those who succeed are often asked, "How do we create more of you?" The answer, participants said, starts with identifying students at the undergraduate level who show a talent for leadership.
"What I take away most is we have so many stakeholders — students, faculty, community members, staff, members of our leadership team and our board. Trying to make sure that we're doing the right thing all the time is what we need to do, but it's always a challenge. Every stakeholder comes with a different position and a different set of expectations," said Dr. Kristin G. Esterberg, president of the State University of New York Potsdam.
"To be able to have folks you can run ideas by — develop an opinion, develop an argument, develop some courses of action — that's so important," she added. "We've been talking about how important it is to have diverse folks in your leadership teams on your campuses, on your boards — women, people of color, LGBT folks, different interests, experiences and backgrounds. It makes us all stronger."