Temple University has hung the "Progress" Pride flag above a student lounge in the atrium of the university's Howard Gittis Student Center.
The flag is a symbol of acceptance, a conversation starter and a statement that the institution is inclusive and supportive "of everybody," Temple senior director of student center operations Jason Levy told the Philadelphia Inquirer.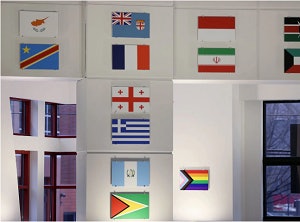 The "Progress" Pride flag is an updated version of the original LGBTQ flag that consists of a six-stripe rainbow, adding five stripes arranged in a chevron shape. Three of the additional stripes represent individuals identifying as transgender and two represent marginalized people of color and individuals living with AIDS or who experience other stigmas.
The institution is also a leader among colleges across the region that display the flag on their campus.
The decision to hang the new flag came amid discussions between Levy's staff, the campus Student Government Association, the Queer Student Union and the Office of Institutional Diversity, Equity, Advocacy and Leadership.
"Students are really happy to see that this flag is up there, because it shows that Temple is progressive," said junior Hailey McCormack, director of communications for Temple Student Government. "It shows that Temple is really representing as many people as possible."