PHILADELPHIA – Diversity officers should help cultivate a campus climate where coalitions are built to benefit underserved student populations and where the historical trauma experienced by various minority groups is addressed.
That's what experts said during a plenary panel discussion Friday at the 13th annual conference of the National Association of Diversity Officers in Higher Education.
The skepticism many Native Americans and other indigenous peoples have had toward predominantly White educational institutions is a response to how they historically have been disrespected and miseducated by those systems, contended Carrie L. Billy, president and chief executive officer of the American Indian Higher Education Consortium (AIHEC).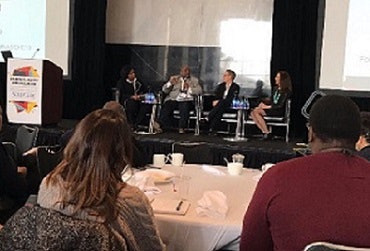 Boarding schools, in particular, propagated assimilation and indoctrination of Natives that has contributed to the widespread preference among American Indians for tribal colleges, Billy explained during the session, titled "Other Perspectives on Diversity in the Academy."
"That shaped our experience with education and goes a long way toward explaining the types of statistics we see now" and "aversion to education" in general, said Billy, a Navajo. "We are caricatures in this country."
Large-scale and systematic loss of homelands, languages and tribal sovereignty fueled transgenerational trauma that still affects Native students, while racist sports mascots perpetuate the trauma, she said.
To provide access and equity predominantly White institutions (PWIs) and other colleges and universities must be deliberate about acknowledging the past and the scars that Native students bring with them, added Billy.
"We're not going to overcome all that past, which was intentionally done, unless we're intentional about undoing it."
Some remedies are easy, and administrative leadership is essential, said Billy.
For example, beginning meetings by acknowledging the Native people on whose land the meeting is occurring is a good start, she said.
"We do that everywhere we go because that raises awareness and helps people think from a Native perspective."
She added that creating courses or changing curriculum to include "a world view that resonates with Native students" – and partnering and building relationships with tribal colleges to do so – could benefit students by restoring and rebuilding Native identity.
Similar sensitivity is needed for LGBTQ students, who often experience trauma in the formation of their sexuality identity, said Dr. Jennifer Harvey, a professor of religion at Drake University.
Harvey, an American Baptist-ordained minister who describes herself as lesbian and queer, directs her school's Crew Scholars Program for students of color.
"This program is not because there are deficits in any of the students we're working with," she said. "Our institution has a deficit."
That assertion echoes chief diversity officers and others in higher education who maintain that the central question in terms of access and equity for underrepresented students isn't whether those students are ready for college – it's whether colleges, particularly PWIs, are ready for them by having created welcoming environments with support systems to help students succeed.
That can be particularly challenging for community colleges, where there is less opportunity for productive interactions with students because they commute, noted Dr. Warren R. Anderson, vice president for inclusion and diversity and Title IX coordinator at Harrisburg Area Community College in central Pennsylvania.
Citing HACC's credential-granting rate for Black students at well below systemwide, state and national averages, Anderson said efforts to promote equity should target all marginalized groups.
The five-campus HACC system has changed accountability metrics to improve success for Black students and across the board, he said, but added that augmenting change at any school is not the responsibility of solely the chief diversity officer.
Addressing historical trauma needs to be "a lens we're looking through when we develop each and every one of our policies," said Anderson.
There are many layers to how oppression because of sexuality and race impact underrepresented students, and addressing the issues is challenging, Harvey said.
Exclusion of LGBTQ students in higher ed spaces or treating them as if they are invisible can further traumatize them, she said, particularly if they arrive on campus already frightened and living a "bifurcated experience."
Rather than move into administration, Harvey has chosen to remain a faculty member because that role allows her to provide important support for Drake's associate provost for campus equity and inclusion.
The panelists agreed that underrepresented students can be better served and CDO burnout can be avoided through coalition-building at the institutional level between schools, that focusing on areas of commonality across minority groups can foster mutual respect and strengthen bonds, and that White faculty and administrators need to earn student trust by demonstrating a sense of urgency about racism before a crisis compels them to do so.
"Students of color know who their advocates are," Harvey said, "and how few there are."
LaMont Jones can be reached at [email protected]. You can follow him on Twitter @DrLaMontJones