When Brigham Young University leadership reiterated a campus ban on "same-sex romantic behavior" on March 4, John Valdez wasn't surprised. He's the executive director of the OUT Foundation, a nonprofit that supports LGBTQ students and graduates. It was founded by three gay alumni of the Utah institution.
He and his board immediately released a statement in support of the campus's LGBTQ community, expressing frustration about the decision.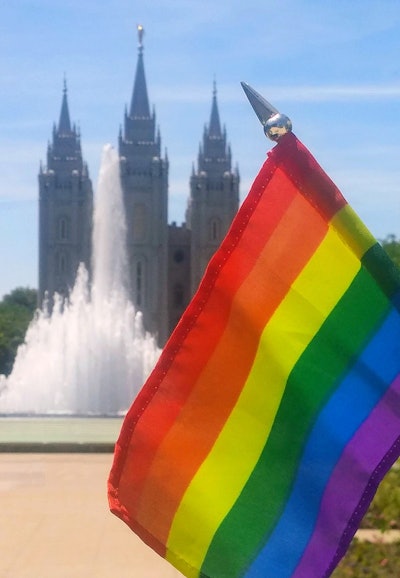 "The OUT Foundation is most concerned with the safety of the LGBTQ+ community at BYU," the statement reads. "This troubling reversal is a breach of trust that leaves queer students with targets on their backs."
Brigham Young University, owned by The Church of Jesus Christ of Latter-day Saints, previously had a student honor code that explicitly banned "all forms of physical intimacy that give expression to homosexual feelings."
So, when that section disappeared in the updated honor code on Feb. 19, LGBTQ students celebrated. Some took the opportunity to come out or to openly share previously hidden relationships. Valdez and his team at The OUT Foundation felt "a skeptical hesitancy" about what seemed like good news, he says. "We were kind of waiting for the other ball to drop."
And it did.
Two weeks later, Elder Paul V. Johnson, commissioner of the church educational system, wrote in a letter, "Same-sex romantic behavior cannot lead to eternal marriage and is therefore not compatible with the principles included in the Honor Code." Brigham Young University tweeted that there had been a "miscommunication" with the updated code.
"Even though we have removed the more prescriptive language, the principles of the Honor Code remain the same," the university posted.
The reversal was a blow to the school's LGBTQ students. A junior, who spoke to Diverse and chose to remain anonymous, came out to his parents after the honor code change in February. He wasn't at a point where he was ready to date — that still felt "kind of scary," and he wasn't out to most of his friends — but it gave him and other LGBTQ students more room to "be open and figure out that side of yourself."
"It just made me feel safer," he says. After, he felt like "a bit of a mess."
He applied to transfer to the University of Utah but ultimately decided to stay at Brigham Young. The costs of moving to a new campus didn't seem worth it, and he was worried he would have to graduate a semester later than he expected, delaying his plans to go to medical school. Still, the incident made him eager to reach graduation.
"I definitely want to graduate as soon as possible," he says. "… You're supposed to enjoy college and have fun. But I kind of want to get it over with."
A helping hand
Stories like this left Mormon writer Meg Conley feeling "bereft ." So, she set out to "remove as many roadblocks as possible" for any LGBTQ students who may want to leave Brigham Young University.
She put out a call on Twitter, offering to edit application essays for students who wanted to transfer. Her message — signed, "a Mormon mother who loves you" — was retweeted over 1,300 times. Hundreds of college students reached out — but not just Brigham Young students and not just students who wanted help with application essays.
Some Mormon LGBTQ students contacted her to talk theology. In Mormonism, salvation is a "community project" — Mormons believe the whole community is supposed to end up in heaven together — so feeling on the outskirts can be a theological minefield for young LGBTQ Mormons.
"A lot of these 18-year-old kids, they literally feel like they're losing access to eternity with their families because of their sexual orientation," she says.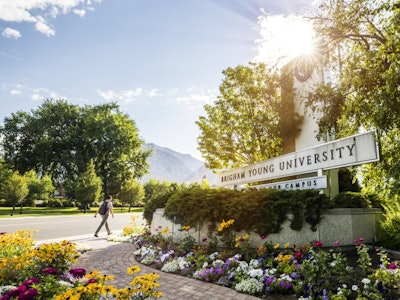 "And that's just bulls**t. God wants all of us.'"
LGBTQ students from other faiths also got in touch with Conley, many sharing experiences at other religious higher education institutions. Some told her they didn't feel comfortable bringing up LGBTQ issues on campus at all. Going forward, she hopes higher education professionals will ask, "As a professor, teacher or administrator, how are you centering queer students' actual voices?"
It's important to "announce yourself as an ally," she says.
In response to her tweet, many did. More than 500 people asked how they could help Brigham Young University's LGBTQ community. Dr. Rose Judd-Murray — a Mormon professor in the School of Applied Sciences, Technology and Education at Utah State University — was one of them. Brigham Young University's reversal was "gross negligence," she says. So, when she saw Conley's tweet, she felt compelled to join, especially as an educator.
"We are here to help you and support you," she says. "That's the role of higher education." And as a Mormon, "I'm disgusted and I'm tired," she added. "It's really emotional for me."
Changing times
In recent years, The Church of Jesus Christ of Latter-day Saints has made some efforts to be more LGBTQ-inclusive. Reversing a 2015 decision last April, the church now allows the children of samesex couples to be baptized. A statement by church leaders at the time called gay marriage a "transgression," but clarified that "it will not be treated as apostasy for purposes of Church discipline."
While she wants them to have the option, Judd Murray doesn't expect many students will transfer. It's a "monumental task" in and of itself, she noted. And it's even harder for some students to transfer from Brigham Young University because "generations of their family have attended the university and supported the university," she says.
It's also expensive. For members of the church, Brigham Young University tuition is subsidized, costing a mere $2,895 per semester. If LGBTQ students want to go elsewhere, they'll likely take on a sizable tuition increase.
Cost is especially a concern now amid the coronavirus and an impending economic downturn.
But, according to Valdez, some students have been making concrete plans to leave the school. The OUT Foundation has been in communication with other universities in the state, like Utah Valley University's LGBTQ student services, to prepare them for potential transfers.
When the university doubled down on its policy, the foundation created a GoFundMe campaign, raising about $40,000 to help students with the cost of transferring. In the end, 14 students applied for funds, and 12 received grants.
Valdez wanted to give students the option to get out of "the precarious situation a lot of students were in,"
he says, as they came out to friends and family "under the impression they would be able to date and be
accepted."
When Valdez began studying at the university in 2007, identifying as gay was grounds for expulsion. He was out to some friends, but not his family. By the time he graduated, that policy was revoked, "a big step in the right direction." As an alumnus, he wanted to focus on "giving back to the queer community at BYU."
With the events of this past semester, plus the fresh challenges posed by the pandemic, his advice to LGBTQ students at Brigham Young University is to "prioritize your own safety, health and wellbeing at this time, whether that's getting access to mental health services that you need or making sure you're surrounding yourself with a safe environment, if it's possible," he says. "Once you've been able to secure safety for yourself, that's the time to start focusing on others and helping others secure that same safety."
This article originally appeared in the June 11, 2020 edition of Diverse. You can find it here.