Over 80 professors, including retired faculty members at Assumption University, have joined the student campaign to pressure the school's leadership to apologize for an election document sent out earlier this month that addressed gay marriage, among other issues, according to The Telegram.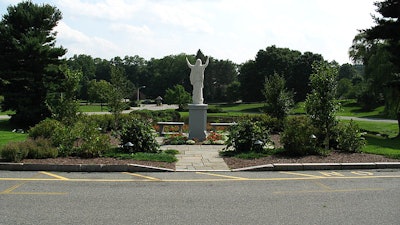 Faculty are now calling for the university to make changes in the wake of its decision to forward the message from the United States Conference of Catholic Bishops (USCCB).
Part of the USCCB document, which the school sent to the campus community on Oct. 19, included gay marriage in a paragraph listing as "intrinsically evil acts," and said Catholics should avoid supporting politically.
Still, a university official defended the USCCB document, suggesting some of the faculty's criticism was due to misreading and misinterpretation. Plus, it is Assumption's right to share the Catholic stance on gay marriage, the official said.
In response, students set up an online petition, which has garnered more than 3,000 signatures, demanding an apology from the university administration.
Though President Francesco Cesareo reiterated the school's support of its LGBTQ members in a follow-up message, several students said that his response was not enough.
More than 500 current and former Assumption students sent a letter to school leadership seeking not only an apology but a commitment to better support LGBTQ individuals on campus.
The faculty's letter makes similar demands, including but not limited to the school removing a reference in the student handbook to heterosexual sexual relationships being the only "morally legitimate" kind, as well as Assumption dedicating more resources to supporting initiatives on campus meant to support LGBTQ members.
On Wednesday evening, Assumption's Provost Dr. Greg Weiner sent a letter to faculty expressing his concern for the many LGBTQIA+ members who are part of the college community.
"We are equally responsible for striving to understand, not only charitably but also accurately, the matters under dispute," he wrote.