A women's soccer coach at the Christian-affiliated Geneva College is saying she was fired last month after posting photos to social media advocating for the LGBTQ+ rights in the church, the Pittsburgh Post-Gazette reported.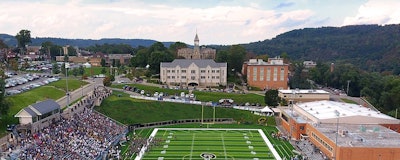 Kelsey Morrison said she was fired following a June meeting with Human Resources where officials said the posts – put on Morrison's private Instagram story in April – opposed the school's values. The posts read "Queer people offer precious gifts to the church. Don't miss out," and "Jesus is radically inclusive."
Geneva – run by the Reformed Presbyterian Church of North America – has strict guidelines to align staff values with those of the church. It also has a student handbook with policies for same-sex attraction, including counseling and discipline for sexual behavior outside of heterosexual marriage. To note, the school specifies they will not discipline someone having feelings of same-sex attraction.
Morrison argued the posts did not violate the school's values.
"The College reserves the right to take appropriate action, up to and including separation from employment, if an employee engages in behavior or expression that contradicts or undermines these views," a Geneva spokesperson said in a statement.
Morrison – she is gay but did not disclose her sexual orientation when hired because she believes in Geneva's religious ideologies – was not told her sexual orientation was the reason for her termination, but she said "it was an issue that the school didn't know how to address and this was a good opportunity to take care of the situation."
The First Amendment does not apply to private colleges, meaning such schools can fire employees based on speech, said Aaron Terr, director of public advocacy at the Foundation for Individual Rights and Expression.
"There's anti-discrimination law, which says you can't for instance discriminate against an employee on the basis of sexual orientation but if the firing decision was based on what the coach said on Instagram as opposed to their status as a gay woman then it wouldn't violate anti-discrimination laws," Terr said.