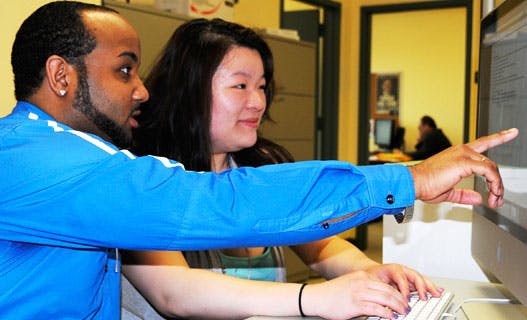 Before administrators at Salish Kootenai College created a new Department of Academic Success, completion rates among developmental education students hovered at about 40 percent.
But after the Pablo, Montana-based college got the department up and running, reached out to faculty and intensified efforts to help underprepared students succeed, pass rates in developmental education courses increased to nearly 70 percent.
The increased completion rates led to more tuition, which in turn generated the revenue needed to justify the continued existence of the new department, an official at the tribal college says.
"I have no doubt that we're going to continue with that department," Dr. Stacey Sherwin, Director of the Office of Institutional Effectiveness, told Diverse.
Salish Kootenai College's experience is one of several featured in a new policy brief released Thursday by the Institution for Higher Education Policy, or IHEP, a Washington, D.C.-based policy and research organization that focuses on postsecondary access and success.
The brief — titled Supporting First-Generation College Students Through Classroom-Based Practices — highlights various outcomes of the Walmart Minority Student Success Initiative, a three-year program designed to help Minority Serving Institutions, or MSIs, boost their ability to serve first-generation students.
Through the initiative, which began in 2008, a total of 30 MSIs were given a $100,000 "capacity-building grant" to put practices and processes in place to help more first-generation students of color achieve academic success, the brief states.
Administrators at participating colleges told Diverse that while size of the grants may have been modest, the impact was major.
"It was a small grant, but it accomplished a lot," Sherwin says. "It really changed how we think about working with our students."
Sherwin related that the grant money was used to support a director's position in the new department and to conduct daylong faculty development seminars that featured experts on how to work with underprepared students.
Asked what faculty started doing differently that they hadn't done before, Sherwin related that faculty began to craft syllabi that better explained what it took to succeed in a given course.
They also began to offer students more tips on how much time they needed to devote to study, recommend study groups and point students to other individuals on campus who could help them get through a particular course.
Sherwin says reorienting faculty to work with first-generation college students was necessary because many were accustomed to working at more selective colleges where students showed up better prepared.
Asked how Salish Kootenai College achieved the often-elusive goal of faculty buy-in, Sherwin says: "All it took was explaining to faculty that this was not an isolated subset of students, but really 75 percent of our students start as unprepared students.
"And if we fail to work with those students successfully, we're going to continue to have retention rates that are not what we want," Sherwin continued. "Obviously, that impacts the institution financially."
At first blush, some of the changes that Salish Kootenai College and other MSIs featured in the new IHEP brief may seem like simplistic efforts that merely tinker around the edges, as opposed to large-scale systematic change.
But Dr. Wendell Hall, Deputy Director at IHEP, says getting faculty on board to focus on helping first-generation students succeed represents a fundamental shift on campus.
"Anytime you have calls to faculty to be more involved in the academic process to help low-income and first-generation students succeed, that is a pretty radical change," Hall says.
The bottom line, he says, is that faculty matter.
"Anytime you say we're going to do this for the common good, but faculty are not involved, it's not going to be successful," Hall says.
Hall says it's important for institutional leaders not to approach the need to help first-generation students by viewing them as deficient.
Rather, he says, it's important to approach the matter with the mindset of "let's make sure we have the appropriate structures in place to ensure your success."
Although in the case of Salish Kootenai College, the extra help ended up bringing in the additional revenue needed to sustain it, Hall says institutions should not view efforts to help first-generation students succeed from the standpoint of their potential fiscal impact.
Rather than asking about the cost, Hall says, institutional leaders should ask: "What is the cost not to do it?"
"This is an investment in our young people and also students that the institutions themselves have accepted to be on campus, and you would hope the institutions have the appropriate supports once the students get there," Hall says.
That is the idea behind the New Generation Scholars program at CUNY's LaGuardia Community College, a Hispanic Serving Institution in Queens, N.Y. that is also featured in the new IHEP brief.
"I don't think that we look at it so much as we're contributing to FTE (full-time enrollment) and tuition and all of that," says Marian Blaber, Director of Language Immersion Program and College PREP in the Adult and Continuing Education Division at LaGuardia.
"We really look at it in the context of we are helping the community, and the fact of the matter is we're very aware of the fact that a college degree is the degree that people are getting jobs with," Blaber says. "We consider it an investment in the community."
Through the New Generation Scholars program at LaGuardia, instructors in credit-bearing courses give lectures in non-credit classes, so that students gain an early awareness and appreciation for what they are about to encounter in the next phase of their higher education. Conversely, instructors in the credit-bearing courses gain a better appreciation for where their incoming students are coming from, Blaber says.
Since the New Generation Scholars program began, she says, 90 percent of non-credit students started enrolling in the credit-bearing side of the college, up from 64 percent before the program was implemented.
Blaber attributed the program's success to the fact that through it, the college offers students, many of whom were born abroad, the extra help they often need to get various financial aid forms and other applications filled out thoroughly and in a timely manner — something that she says historically had impeded many of them from carrying on with higher education.
The extra help is provided through partnerships that involve Adult and Continuing Education, as well as Academic Affairs and Student Affairs, along with the university's institutional research branch to help with record keeping, she says.
The IHEP brief strongly recommends using data to identify first-generation college students in order to better serve them. Blaber says at LaGuardia, first-generation college students were identified as such through ESL or GED programs.
"We're giving an opportunity to some of the neediest students," she says. "They're getting an opportunity to get on campus and matriculate into the college."