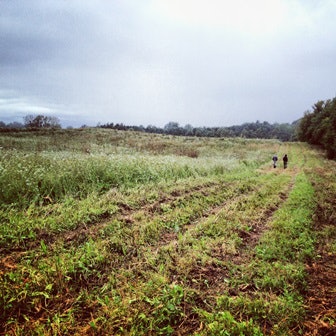 Though the number of American Indian farmers has soared in recent years, many of them still have difficulty getting access to credit. Despite a growing number of American Indian youth joining their local chapters of Future Farmers of America, few young Natives are enrolling in food and agricultural programs in college. And in spite of food production taking place on many reservations, there is little access to healthy and nutritious food, leaving many American Indian reservations as food deserts.
The Indigenous Food and Agricultural Initiative at the University of Arkansas School of Law is on a mission to reverse these trends.
The program, the first and only one of its kind in the country, was launched two years ago. The initiative takes a multidisciplinary approach to research, education and service. Law school officials say their goal is to become a resource on issues like health and nutrition, land law and policy and financial markets for American Indian tribes.
Law school officials plan to work closely with tribal governments, colleges and universities near American Indian communities and public agencies to expand the agricultural sector in Native country. They believe a vibrant agricultural industry in American Indian communities could significantly transform the health and economic fortunes of the nation's indigenous people.
"We see [the initiative] as both a resource for the federal government and also a resource for the tribes," says Stacy Leeds, dean of the University of Arkansas School of Law and a citizen of the Cherokee Nation. "As part of their self-governance, tribes are passing their own laws about how their businesses might function. We are here to help them think through those issues and hopefully mediate when necessary. This space is so large, and there are so many issues."
Zachary Ducheneaux, a program manager at the Intertribal Agriculture Council, an Eagle Butte, S.D., organization that promotes the use of agricultural resources for the betterment of native peoples, says a strong agricultural sector in Native country could be the solution to the poverty that persists on many reservations.
"The last time we were not impoverished was when we were feeding ourselves," he says. "Until our folks are in control of that land and are able to fully develop that land and turn over that economy, we will continue to have this poverty."
Overcoming obstacles
Cris Stainbrook, president of the Indian Land Tenure Foundation, a Little Canada, Minn., organization that addresses the legal and administrative barriers that prevent American Indians from owning and controlling reservation lands, says the Indigenous Food and Agricultural Initiative could serve as a focal point that helps disparate American Indian groups see how all the policies around land and agricultural groups intersect. He says too many American Indian agricultural groups work on important matters without regularly consulting with each other or anticipating some of the unintended consequences of their policies.
"What we need is some kind of entity that says, if this policy goes into effect, this is what it does, and this is what it means for land, community development and environmental issues," Stainbrook says.
Through the initiative, the law school offers an LLM, an advanced degree in law that gives experienced jurists the opportunity to specialize in areas of agricultural and land law that are of particular interest to American Indians.
Leeds, the nation's only American Indian dean of a law school, says one of the goals of the program is to steer young people to academic programs tied to agriculture. "We are trying to create an academic pipeline of people that can go into this line of work."
She notes that many of the American Indian reservations that have gaming and casinos have a large cadre of residents with assorted professional backgrounds who have been trained to run these businesses. She is hopeful that partnerships with other colleges and universities will yield similar results for the agriculture sector in Indian Country.
"We're trying to train executives in the field, tribal government officials and business leaders to understand the importance of the agricultural food business," says Leeds.
Leeds adds the program is also intended to help American Indian famers have a better understanding of agricultural and land policy laws so they can have better access to capital.
To lead the initiative, the law school hired Janie Simms Hipp, a respected veteran lawyer and former senior adviser for tribal relations to the U.S. Secretary of Agriculture. Hipp says the formation of this initiative comes at a propitious time. Chronic diseases like diabetes continue to infect many American Indians, so many tribal leaders are making a big push for healthy eating in their communities, Hipp says.
Hipp, a Chickasaw, cites other issues as barriers to the success of American Indian farmers, like limited access to basics, such as broadband access and farm financial management tools.
"When I worked in Washington, D.C., I knew farmers who worked in D.C. but turned on their irrigation systems [at faraway farms] from a computer," Hipp says, adding that many farm financial management issues confronted by American Indian farmers could be overcome by having access to financial management tools that help them make sound business decisions. She notes that many non-Native farmers work with high-tech tools like iPads in the field.
"But if you don't have broadband access, you can't do it," she says, noting that many Native farmers work in remote rural areas. "What are the modern tools you can use to support traditional farming? How do you migrate that knowledge of traditional production practices and marry it with tools to grow a sustainable business? That's a huge issue."
Legal roadblocks
Native farmers also face legal complications that hinder their success. Leeds says because of the history of the U.S. government's dealings with the tribes, the government is technically listed as the landowner of some farms in many cases. This presents problems for Native farmers when they approach banks for credit.
A-dae Romero, an LLM student in the Indigenous Food and Agricultural Law Initiative and a former tribal judge for the Taruk and Hoopa tribes in California, says she is attracted to the prospect of assisting American Indian farmers.
She says a myriad of other issues hamper the success of Native farmers, including agricultural water rights, the growing controversy over GMOs and the fact that many Indian farmers who are more focused on growing traditional crops from their regions are less likely to receive federal subsidies.
"There are proposals to regulate water, but in Indian country, water is a communal resource, and they have to work together to determine how to use water communally," says Romero. "There are lots of federal agricultural programs that don't recognize federal water rights as being different from Indian water rights."
Ducheneaux says the Indigenous Food and Agricultural Initiative could be the spark that helps bring badly needed change to agricultural development in Indian Country. In the next five or 10 years, he says, he would like to see more tribes allow themselves the opportunity to develop their own bodies of agricultural law, covering subjects such as liens, food safety and transportation regulations. He notes that many tribes already have gaming regulatory laws and says he would like to see a similar body of law in agriculture.
"Gaming is the low-hanging fruit," he says. "Agriculture could be just as profitable a venture and a more sustainable and beneficial type of development."