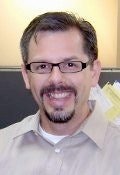 Fewer Native Americans earn doctorates now than they did 20 years ago. Or do they?
Using data collected from the National Science Foundation, the Chronicle of Higher Education recently determined that the number of Native Americans receiving doctorate degrees is lower than it was two decades ago. According to the published data, only 149 Native Americans received doctorates in 2013.
The data was disputed in some quarters.
The trouble with it, says Dr. Malia Villegas, director of the Policy Research Center at the National Congress of American Indians, is that much of the data is self-reported and the sample is much smaller than the one her agency uses. She says that, based on her office's data analysis, the number is actually significantly higher.
But like several experts who follow Native American trends in higher education, Villegas says the accuracy of the data matters less than one salient, indisputably clear fact: There are too few Native Americans and Native Alaskans with doctoral degrees. And as a group, Native Americans are grossly underrepresented in the STEM fields.
Native Americans are "2.2 percent of the population but only 0.8 percent of doctoral degree holders," she says. "We still have a ways to go in terms of catching up."
"Yes, we may have witnessed a slight increase and a decrease in the previous year," adds Dr. Heather Shotton, past president of the National Indian Education Association and an assistant professor at the University of Oklahoma.
But, she says, "When you look at the broader picture, Native Americans make up the lowest percentage of all groups represented in graduation education. ­The bigger picture is that there's not enough focus on recruiting Native [American] students into doctoral programs."
Dr. Tsianina Lomawaima, the Distinguished Scholar in Indigenous Education and a professor in the School of Social Transformation at Arizona State University, says that, while there are several individual faculty at universities around the country who champion Native American issues, there are very few institutions or programs that have a commitment to advancing them.
Examining causes
Higher education experts offer a variety of reasons for the low numbers, particularly in the STEM fields. ­They point out that Native Americans who earn graduate degrees are more likely to attend law school or to pursue doctorates in the humanities or social sciences.
Experts say there's a pipeline problem that stems from inadequate preparation in math and the sciences at schools on many reservations, as well as in many of the nation's urban centers, whose public schools also have a significant number of Native American students.
"Part of the problem is disparity in preparation and income disparity," says Joseph Gone, an associate professor of psychology at the University of Michigan, who grew up on a reservation in Montana.
They also say that a significant number of Native American current and prospective students complain about not being able to fit in at many universities, particularly those where there are no Native American faculty or where the faculty fails to display understanding and sensitivity to their background.
But the key to turning around the trend could be planting the seed at an early age, they say.
"The biggest problem is always going to be the pipeline problem," says Dr. Gavin Clarkson, an associate professor in the College of Business at New Mexico State University and member of the Choctaw Nation of Oklahoma.
Clarkson, who holds a doctorate in technology and operations management as well as a law degree from Harvard, says most of his Native American students have chosen law school over business school.
"Law school is a program you can get into without doing a single math problem," he says.
Clarkson also attributes part of the pipeline problem to exposure. As a doctoral student, he was involved in the PhD Project, a nonprofit that helps minorities return to academia to earn their doctorates and become business professors. Some of his observations were revealing, he says.
"In the PhD Project, I ran into Blacks who were third-generation college students," he says, adding that a large number of young Native Americans are first-generation college students. "I was the only American Indian who had a parent who went to college. We are starting to have more Native American students whose parents went to college."
Gone estimates there are about 400 Native American psychologists in the country. He says he, too, has noticed that, when he attends meetings of professional organizations like the Native American and Indigenous Studies Association, about 90 percent of the attendees are in the humanities.
But several experts point out that it is important to understand what drives many Native Americans who pursue graduate degrees.
"The motivation is not about what's lucrative for them," says Shotton. "It's about giving back. It's about helping better their communities, their tribes. From what the research tell us, it's not about the money. So they tend to go into the social sciences, education, health programs and law school. A lot of them want to use their law degrees to help fight for their tribes."
Adds Villegas, "Many Native Americans pursue education with a real bent toward contribution."
The downside is that badly needed Native American voices in science and technology policy decisions are often missing or not adequately represented, says Villegas. She says a lot of government-driven and -funded health and science research has the ability to benefit many Native American communities.
Shotton says working harder to recruit and retain more Native American doctoral students could also help reverse this trend.
"The bigger picture is there is not enough focus on recruiting Native [American] students into doctoral programs," she says. "Mentorship is key. Having role models is key. Understanding how you gain access is key. How do you apply? So many of our programs are focused on creating access at the undergraduate level."
She cites a doctoral initiative at Arizona State University's School of Social Transformation as a smart partnership model. Under this program, which was launched in 2012, two cohorts of New Mexico Pueblos will pursue their doctorates over a three-year period. The second cohort will begin in 2015. The students will receive instruction through videoconferencing, online courses and in-person in their communities.
Upon completion of their coursework, the students will team up to study and produce solutions for critical issues facing Pueblo peoples. The program will cover a broad spectrum of areas, including health, the environment, land and culture resource protection, education, economic and community development, and indigenous law.
"It's a fairly new program and approach in terms of going out into the community," says Shotton.
Hope on the horizon
There are other glimmers of hope, too.
Melvin Monette, director of graduate fellowship and special projects at the American Indian Graduate Center, says his agency recently received $750,000 from the Bureau of Indian Education to help fund graduate students in the STEM fields. He says the center expects to pay the way of about 12 graduate students with the money.
He says that, while the funding is only guaranteed for one year, it does make a difference in efforts to steer more Native Americans toward STEM fields. More Native Americans with doctoral degrees in the STEM fields could have a significant impact on their communities, he says.
"Mathematics is huge because it is needed in so many areas," says Monette, president elect of the National Indian Education Association. "Science is critical because it helps understand how systems work and what is happening in ecology. We need engineers to build and create machinery."
In New Mexico, a statewide program that promotes higher education and economic development opportunities for Native American students was relocated to the New Mexico State University College of Business earlier this year. College officials say this move will strengthen the program's emphasis on applied research that benefits tribal communities throughout the state.
Clarkson says one of the program's core emphases will be the recruitment of Native American doctoral students in business, science, engineering, technology and agriculture.
Ultimately, he says, the goal is to have a positive effect on tribal economies in the state. Many college-educated Native Americans would love to go back to their communities if the opportunities are there, he says.
It is an approach that, if successful, could be replicated around the country, experts say.
"The thing that we want to be measured by years down the road," Clarkson says, "is how we helped contribute to the development of self-sustaining tribal economies."