Last year, the White House announced that Native American education is in a state of emergency. More than a third of all American Indian and Alaskan Native (AIAN) youth live in poverty, and only 67 percent graduate from high school. Of the students who attend Bureau of Indian Education (BIE) schools, only half graduate from high school. Even fewer make it to college.
The House Education and Workforce Committee is investigating issues in the BIE schools. Although the vast majority of AIAN youth ― 93 percent ― attend public schools, the remaining 7 percent go to BIE schools. The Bureau is housed in the Department of the Interior, as opposed to the Department of Education.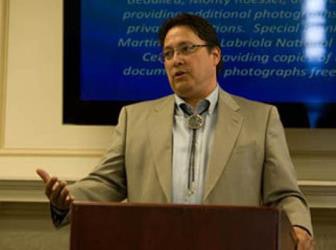 That 7 percent represents 48,000 American Indian K-12 students, attending 183 schools. At first glance, this may appear to be a relatively small number. Yet when taken in the context of the challenges that BIE schools face, it becomes much more concerning.
On Thursday, the Committee held a hearing to examine "the federal government's mismanagement" of BIE schools. Dr. Charles Roessel, BIE director, and William Mendoza, executive director of the White House Initiative on American Indian and Alaska Native Education, testified as witnesses. Kevin Washburn, assistant secretary of Indian affairs, although invited to testify, did not attend the hearing.
Rep. John Kline, R-Minn., opened the meeting by describing some of the problems that students at BIE schools must contend with. "The details we have learned are shocking: falling ceilings; broken water heaters; electrical hazards; rotten floors; and rodent-infested classrooms. At a school I visited earlier this year, blankets hung over the doors in a desperate attempt to keep out the cold air," he said.
Kline referenced the Bug-O-Nay-Ge-Shig School, a school house on the Leech Lake Indian Reservation in northern Minnesota, part of which is housed in a former barn and was only ever intended to be used temporarily. The school's troubles have been written about extensively in the Minneapolis Star Tribune and The New York Times. Some 200 students still attend the school, however, with no other viable option available.
About one-third of the BIE schools need to be renovated or rebuilt. Roessel said that the BIE is still slowly working on a list of schools needing repairs compiled back in 2004. Other schools that need help may be identified in a new list that Roessel said will be out at the end of the summer. Schools have until the end of June to submit applications for construction projects, and the BIE will evaluate individual cases over the summer.
The backlog of repairs can be attributed in large measure to a lack of sufficient funding. BIE schools are congressionally funded. According to a BIE study report submitted to the Departments of Education and Interior in 2014, BIE schools would need some $1.3 billion for construction costs in order to meet standards. In this year's budget, the BIE will receive $45 million to work with.
As Roessel noted repeatedly throughout the hearing, BIE schools face unique challenges. They are often situated in remote locations on Indian lands, sometimes only accessible by dirt road. As schools deteriorate, their old systems for heat and water become more expensive to operate and require frequent repairs. Due to the remoteness of their locations and a lack of surrounding infrastructure, many burdens fall on BIE schools that the typical public school does not have to deal with. Roessel said that the school he worked at on the Navajo Nation reservation had its own fire station, complete with an expensive firetruck that also needed to be maintained.
An earlier committee hearing in April blamed the "bungling bureaucracy" of the BIE for the current state of affairs at some BIE schools. Rep. Todd Rokita, R-Ind., pointed out at today's hearing that, over the past 36 years, the BIE has had 33 directors. Current director Roessel is the longest serving so far. He became the BIE's acting director in 2012, and in 2013, the position was made permanent.
Rokita and Roessel both said that the BIE's prior reform efforts, however well intentioned, simply layered on new requirements without doing much about fundamental issues. "I came into this position with a lot of these reorganizations piled on top of each other," Roessel said. "I think when we started our [current] reform effort, we really tried to get to the root of it, [instead] of doing another cafeteria-style reform, where [we] just pulled some more and put it on our tray." He identified dilapidated school buildings and poor instructions as the two main focal points for the renewed reforms.
Rep. John R. Carter, R-Texas, suggested that public schools might take over the education of Native youth. "If the performance, as you testified and as we learned, are below that of the public schools, why don't we just let the public schools onto the reservations?" he asked.
Mendoza said that tribal control of their own schools is an expression of their sovereignty. At a public school, Native youth would not be taught their traditional language and history, as they are in BIE schools. "Tribes want to maintain that control over their education," he said. Only 57 schools are actually administered by the BIE; the other 126 are operated by the tribes themselves using grants and contracts with the BIE.
Roessel pointed out that some BIE schools are quite successful, and that not all public schools are thriving. The key, he said, is to take the best of both worlds. "I think it's wrong to say that public schools are doing so much better," Roessel said. "I think there are pockets of success, and we need to learn from both."
Staff writer Catherine Morris can be reached at [email protected].