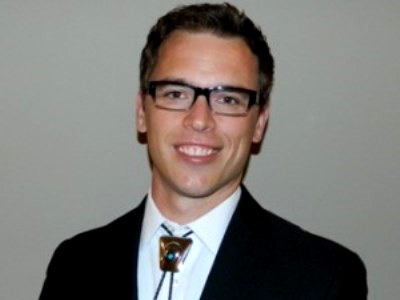 The Society for Advancement of Chicanos/Hispanics and Native Americans in Science (SACNAS) focuses on providing access education around leadership opportunities in the STEM disciplines. Whether working professionals or students, SACNAS aims to cultivate talent that will one day be able to lead some of the scientific charges in a way that is representative and considerate of the indigenous population in this country.
"A lot of students that come into SACNAS for the first time are first-generation college students," SACNAS board member Dr. Allyn Kaufmann said Thursday at the organization's conference at National Harbor, Maryland. "They have a lot of stress and pressure not to go into science."
Some of the stress is cultural and some of it is relative to the challenges associated with being a first-generation college student.
"Science in general is a black box to people. They don't really understand it," Kaufmann said.
"There's not a lot of role models," he added, noting that "that's actually a lot of what SACNAS does as well" ― provide role models.
But in some instances, it can be more than that. "Some of the culture in science is not necessarily eye to eye" with some of the traditional Native ceremonies and beliefs, Kaufmann said.
"If you think about indigenous cultures and practices and ceremonies," some of the beliefs are not scientifically proven or compatible, he said.
But Kaufmann quickly added that mastery of and leadership in science can be very beneficial to Native people. From environmental science, which can be very congruent with Native beliefs, to biomedical science, which is critical for addressing some of the health disparities in the community.
In a research project titled "Streamlining a DNA-based Biosensor Detection System for the Detection of Non-PCR Amplified Genomic Pathogenic DNA Targets in Food," Whittier College senior Masson Blow demonstrated how pathogens are transmitted through food — he says his research has the potential to detect biohazards such as anthrax that could threaten the public at large. "That's what really excited me about this is that I'm actually doing something that's going to be useful, not only for me, but also to the whole word," Masson said.
Masson added, concerning his experience at SACNAS, "Being an African-American male, I see in my science classes there's not a lot of diversity, so I think the mission statement for SACNAS, encouraging different ethnicities to be more involved in STEM — that really hits home with me because I have younger siblings, family — I'm trying to do the same thing on a personal level."
Jessica Valdes, a junior at The University of Texas at Austin, similarly sees value in being at SACNAS insomuch that she can encourage others in her family to pursue higher education aspirations. The project she presented at SACNAS was titled "Evaluating the Link Between Physiology and Melanin-Based Color Diversity in Amniotes."
"I'm a first-generation college student, like most of us," Valdes related. "I have a lot of younger cousins" whose siblings have not attended college. However, Valdes said seeing her at a venue like SACNAS "can hopefully help them get inspired to go and achieve a bachelor's. If they can see me get a Ph.D., it's totally possible for them to get a bachelor's."
"We need to continue to engage this whole notion of diversity and inclusion," said Kaufmann. "Ultimately, whenever we look at the workforce in STEM, it has to be mirroring the population of the U.S."