When Dr. David Yarlott went to college in the late 1980s, he was the only Native American student. Feeling homesick, he withdrew and went home after about a month. Eventually, he found himself at Little Big Horn College in Crow Agency, Montana, which only enrolled 13 students at the time. Now, the tribal college serves nearly 300 students, and he's been the school's president since 2002.
After offering a prayer in the Crow language, Yarlott shared his story at the 2020 Achieving the Dream Conference on a panel called "Tribal Education: Identity, Inclusion, & Equity."
This year's conference placed a special emphasis on student success at tribal colleges and universities (TCUs), featuring 12 concurrent sessions on their work and a luncheon for their representatives.
Tribal college leaders don't always have that platform. Panelists responded to the size of their audience with appreciation – and surprise.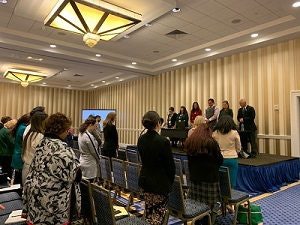 "Tribal colleges are these little beacons of hope across this country," said Dr. Cynthia Lindquist, president of Cankdeska Cikana Community College in Fort Totten, North Dakota. "[But] we're still very, very invisible in many ways."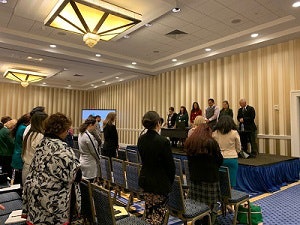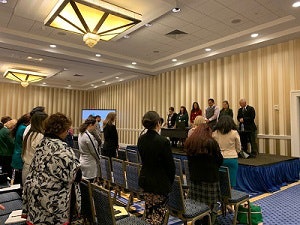 These 37 higher education institutions – the product of a 1960s Native American self-determination movement – serve over 16,000 Native American students in 75 sites across the country, mostly on reservations in remote, rural areas. They were originally two-year institutions, but now 13 offer bachelor's degrees, according to the American Indian Higher Education Consortium. Congress named them land grant institutions in 1994.
Tribal colleges and universities have their own set of unique challenges, namely offering programs that foster Native American identity while also ensuring some of the most underserved students hit traditional success benchmarks.
On the panel, tribal college presidents described themselves frustratingly caught between accreditors' requirements and the realities of their students' lives as adult students, student parents and low-income students. Panelists and audience members shared stories about students struggling to afford gas to drive to campus or student mothers bringing their newborn babies to class.
"For some of our students, success is showing up to class one day a week," said Dr. Ray Burns, president of Leech Lake Tribal College in Cass Lake, Minnesota. "The student who might show up one day, that might be the one day that changes their life. But how do you tell that to the people who want the numbers? They want percentages."
That's where Achieving the Dream tries to help. It isn't the first time the nonprofit, which works to reform higher education, has dedicated resources and conference time to tribal colleges and universities.
The organization has been working with tribal colleges since it began in 2004, according to Cindy Lopez, Achieving the Dream's director of tribal college and university programs. Later, in 2017, as many as 33 tribal colleges and universities became a part of the Achieving the Dream network through a support initiative called Project Success, which will continue for three more years. As a part of this effort, Achieving the Dream supports tribal college faculty and staff in attending the conference.
The overarching goal is to help tribal colleges embark on a "self-reflection process," building their capacity to gather data on student success with customized coaching for each school based on its goals and resources.
"I feel like this work is really empowering them with evidence-based work that can conserve their students," Lopez said. "It's empowering them to incorporate data in their storytelling to internal and external audiences, which is important, and in creating their own research agenda. You have data to do that, to track your students' journey."
The conference sessions focused on tribal colleges are meant to play a role in that. For the past four years, conference participants from these schools have had their own pre-conference program. But this year, sessions showcasing their work with Achieving the Dream are embedded into the general conference.
The hope is to inform tribal college and university leaders about best practices and give them a space to meet each other and collaborate. But it's also an opportunity for other kinds of community colleges to learn from their example, Lopez said.
For one thing, these institutions take the "community engagement" aspect of their role as community colleges very seriously, taking a comprehensive, multi-generational approach to higher education.
On tribal college campuses, "they hold funerals there, they hold celebrations there," Lopez added. She called tribal colleges the "centerpiece" of many reservation communities.
They also have lessons for cash-strapped peer institutions on how to provide deeper student supports. Tribal colleges and universities serve a high percentage of nontraditional students, despite small staff and limited resources.
"TCUs have really inspired other colleges in our network who are supporting other underserved students to find creative ways to do more," Lopez said. "We've certainly learned a lot from them … They are doing the work. We thought it was really important to document it, because so much has been done already."
Sara Weissman can be reached at sweissman@diverseeducation.com.