For his senior exhibition, Nicholas Begay, a studio arts student at the Institute of American Indian Arts, created jewelry inspired by Diné craftsmanship, centered around the themes of "environmentalism," "health and safety" and "environmental racism." His work highlights how coal mining has impacted the Navajo reservation. One textured brooch – made of copper, brass and steel – features a blackened set of lungs.
But this year, he faced a new challenge. How do you display a three-dimensional art piece for the campus community to see, after a pandemic shuts down campus?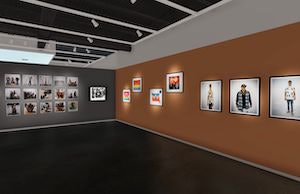 Like most higher education institutions, the Institute of American Indian Arts shifted online after spring break this year in response to COVID-19.
The tribal college and arts school in Santa Fe, New Mexico went into "panic mode" trying to move such hands-on work to a virtual environment, said Mattie Reynolds, assistant professor of museum studies and director of the Balzer Contemporary Edge Gallery.
But the school got creative. It's now running the second of two virtual exhibits featuring senior artwork, called "Virtual Reservation," a collaboration between faculty, IT staff and students using software from Ortelia Interactive, an Australian company. Visitors can use the arrow keys to navigate through the gallery, clicking on artist bios and their art to see students' individual pieces close-up.
Students chose the title "Virtual Reservation," a meaningful name to Begay. It reminds him of how his Diné ancestors were forced to leave their land and go to Fort Sumner in southern New Mexico – how isolating the reservation must have felt and how isolating the pandemic is.
During COVID-19, "we're here in our virtual little domes …" he said. "We're all just self-preserved, going through that as kind of our ancestors did. We're trying to evade a plague."
The shift to a digital gallery hasn't come without its challenges.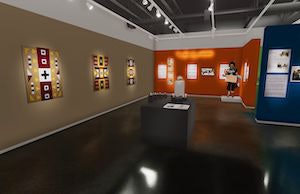 Graduate Marissa Irizarry, who studied studio arts, makes large-scale paintings – up to three by four feet – inspired by the patterns of Ihanktonwan Dakota beadwork. She spent months painting on her living room floor.
Her instructor, Arista Slater-Sandoval, an assistant professor of studio arts, said virtual viewers miss elements of Irizarry's work like "what is her gesture on the canvas? What does that stroke look like?"
"There's no substitute for looking at art in person," Slater-Sandoval said. "It's just such a different experience and interaction."
Meanwhile, students don't get to engage with viewers, a part of the senior exhibition experience, noted Daisy Quezada Ureña, assistant professor of studio arts.
"I miss sort of that in-person conversation, the fluidity of being able to hold an object and understand its weight and its relationship to the physical body, because that gets lost completely through digital in the virtual exhibition in critiques," she said. "That's not something we can do anymore. I think that was a huge part of going into museums and public spaces … interacting with people and interacting with those objects around us."
Irizarry found this to be an obstacle, too.
"One of the things I probably struggled with was not being around other people to critique my work and just different perspectives," she said.
But there are also advantages to the virtual exhibit, Slater-Sandoval added, like a global audience. "Virtual Reservation" has had international reach on social media. And for students like Brittney Beauregard, a senior in museum studies, it means family on the east coast can see her work, a research-based exhibition on how museums can combat climate change through more sustainable practices.
"I feel like a lot of people could benefit from a lot of the information I talked about in the exhibit," she said.
Plus, it teaches students digital tools that put them at an advantage in the job market, faculty pointed out. Studio art students now have digital portfolios to send to graduate schools, while museum studies students now have experience using virtual exhibit software, which gives them an edge with future employers.
While the school is "chomping at the bit" to return to in-person exhibitions, Reynolds said, instructors expect to continue teaching these skills and possibly feature at least some work online, like video projects.
"It just exponentially increases their exposure," she added.
For students who are interested in using virtual mediums post-pandemic, Quezada Ureña wants to accommodate that and create a platform for them to "express themselves in a way that feels honest."
"I like to push students to see where their art can go" she said. "… I'm always interested in seeing how we can continue changing and adapting and learning from one another."
"Virtual Reservation" has pushed students to think in an "entirely different realm," Slater-Sandoval added.
At the end of the day, "despite COVID and things shutting down, we're all still here," she said. "We're still making art."
Sara Weissman can be reached at sweissman@diverseeducation.com.