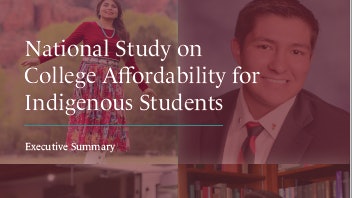 Indigenous students are struggling to make ends meet while pursuing their education and supporting their families and communities. To ensure Native American scholars can earn their degrees, institutions need to be more transparent about the true cost of college, expand campus-based tuition and fee waivers, boost emergency aid, and purposefully gather data on their Indigenous students instead of grouping them into the catchall demographic, "other."
That's the conclusion of the first-of-its-kind report from the National Native Scholarship Providers (NNSP), a collection of the four largest Native American scholarship organizations: the American Indian College Fund, the Cobell Scholarship, the American Indian Science and Engineering Society (AISES), and Native Forward Scholars Fund.
The report, National Study on College Affordability for Indigenous Students, is a collection of qualitative and quantitative data from 2,789 current and former NNSP scholarship recipients, representing 172 Tribal Nations, who enrolled at any postsecondary institution. NNSP leaders believe it is likely the largest data set on Indigenous students in existence.
"This may be the first time campus administrators have had Indigenous-centric information on college affordability variables from which to inform their financial aid practices," said Dr. John Garland, director of research and student success at the Cobell Scholarship. "I think there are specific data points in this study that may be somewhat surprising to campus administrators, especially when it comes to how scholars are perceiving their campus-based fees and the negative effect fees are having on Indigenous students."
According to data published by the National Center for Education Statistics in 2021, only 36.2% of Native American students entering four-year colleges and universities in 2014 were able to complete their degrees in six years, compared to 60.1% of all other students.
The report found that financial struggles can start as soon as freshman year for Indigenous students. The majority of current scholarship recipients reported their household income as less than $35,000 a year, and over half of all respondents indicated they could not save money before enrolling in college. Seventy-two percent of current scholarship recipients reported they ran out of money at some point within the last six months.
"That means you have food insecurity, housing insecurity — you have to make a really challenging decision about what to pay for," said Dr. Cheryl Crazy Bull, president and CEO of The American Indian College Fund. "So many of our students also contribute to their family's income — basically, students that don't have their various basic needs met, it impacts not just them but their dependents and family."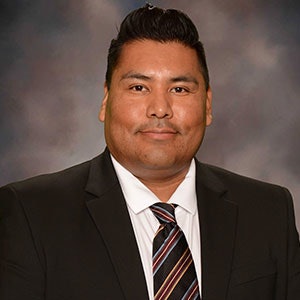 Just under half of all current and former scholarship recipients reported they were the primary source of income for their households while they were in college.
"A characteristic of Indigenous communities is that extended family participation," said Crazy Bull. "Your income is often shared with more than your immediate family." She added that this is important context for higher education institutions to understand an Indigenous student's financial resources.
"Sixty-seven percent of those who are current recipients were expected to contribute to family bills," said Crazy Bull. "That's pretty significant."
Dr. Johnny Poolaw, director of student success at AISES, said he hopes institutions can look at the data and have a better understanding of where their Native students are coming from, "their lives back home, either on reservations or in tribal communities.
"And a lot of these students are still taking care of families, the people they left," continued Poolaw. "They do have their college life, but they also have a very tight knit connection to their home life."
A striking example of this familial support was a story collected from one scholarship recipient who bought his father's aging Honda Civic from him so his father could afford to pay the property taxes required to keep the land.
Angelique Albert, CEO of Native Forward, said the data has finally confirmed what many leaders in the NNSP believed but were unable to quantify — that the scholarships they distributed were going directly to cover the cost of basic needs, and Native students are taking on more debt to manage their education, including opening new credit cards.
"[Institutions] really need to look at anything that focuses on debt reduction, like implementing tuition or fee waivers for Native students, or increasing access to funding," said Albert.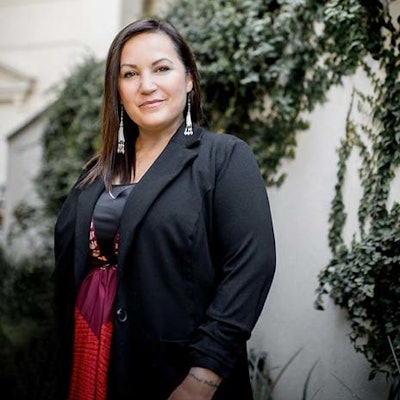 Crazy Bull added that, because many Native students are first generation, there can be a lot of confusion around the navigation of a college's financial aid resources, and institutions should do more to reach out and make sure the processes are as transparent as possible. Almost 80% of respondents said they found financial aid award notifications helpful for budgeting their education.
All four NNSP members were excited for the chance to work together. They were Indigenously led groups working for Indigenous students. They said the report is a challenge to the erasure and invisibility of Native American students on campus, and they hope to produce many more projects together, focused on supporting Native students.
"We need to start telling our stories so we're no longer an 'other,' an asterisk. Students deserve recognition and visibility," said Albert. "Our Native students have a different context than others and they deserve to have this information shared. It's advocacy for our students. They deserve to be heard."
Liann Herder can be reached at [email protected].